François Geers talks about the evolution of our engine parts range
21 October 2019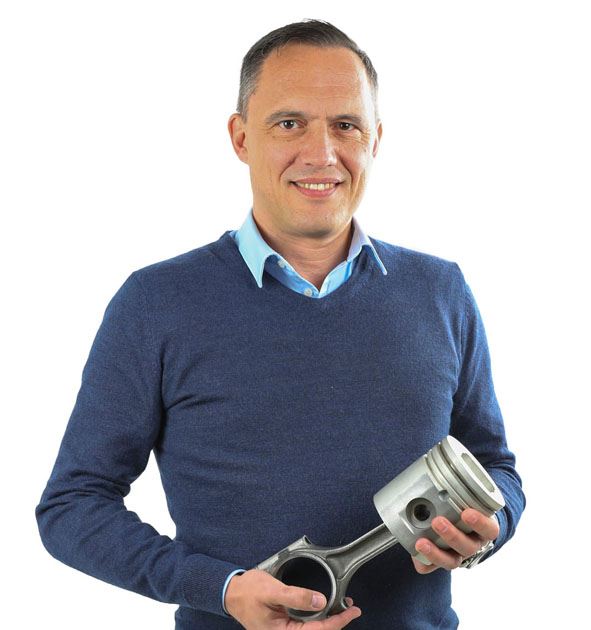 François originally joined TVH after graduating from his studies in auto mechanics. Starting out as a purchaser for engine parts, he paid attention, learned from the experts surrounding him and continually worked to develop his skill set. Now, he is well known as TVH's resident expert for internal combustion engines. In his current role, François determines the purchasing strategy for engine parts, always focusing on optimising work processes and flows. He manages a team of eight purchasers and three technical advisors. Together, they ensure the service level at TVH remains top notch, and that our product range is jam-packed with everything our customers need. 
Congratulations François! 30 years at TVH is certainly something to celebrate. What do you like about working here?
After I completed my studies in auto mechanics, TVH was the next logical step in my career. It didn't take me long to notice that TVH is not only a good employer, but also offers a fun atmosphere at work. I felt right at home! Even after 30 years, I still love my job. Mechanics is in my blood. In my spare time, you can find me working on cars. But when I'm at work, I also enjoy being challenged. I find it satisfying to work with suppliers and customers, especially working together to find the best solution for their particular needs. 
What makes engines so interesting?
Engines are wonderfully complicated. Every part needs to do exactly what it's supposed to - and they need to be assembled correctly, or you'll end up with issues. Even if they have the same base, every engine is different because there are so many different types and brands. 
Both engine technology and the market are always evolving. The manufacturer requirements also change, often becoming stricter and stricter. TVH supplies spare parts for a broad range of engine types, across many brands, so it's a challenge to keep up with this evolution. But like I said, I enjoy a good challenge …
What would you say is the most important aspect for purchasing engine parts? 
Quality. You need to invest in quality parts to keep your engine in top condition. TVH always offers parts at the best possible price. However, when it comes to engine parts, quality is much more important than the price tag. Just one malfunctioning part in an engine can cost you a lot. Even if the part itself isn't very expensive.
When I first started working here, the price was thought of as the most important thing. This also matched customer expectations at that time. Over the years, both our customers and we at TVH started noticing the importance of quality - what's the point of saving money on a part if you just have to replace it again and spend more money? 
At TVH, we grow with the customer. I am proud to say that we strive for the highest standards in quality, and we are continually improving. 
How do you do this? How can you guarantee a top-quality product for the customer?
Well, first of all, we have a premium quality department made up of highly skilled people. Before we decide to purchase a part from a new supplier, we test that part extensively. We check the dimensions, materials used and functionality. And we have a specialised testing procedure for each part. 
For testing cylinder head bolts, for instance, we worked together with a local school. We launched a project for the graduates where they created a testbench to test the tensile strength of the bolts. It was a huge success and the testbench is now in frequent use. 
On top of that, we offer impressive after-sales service. If problems arise, they are investigated, and we learn from them. We are always adapting and improving our processes. And if for some reason and despite all our checks and efforts, a product shows a quality flaw, we take immediate action to solve the problem and inform our customers of the issue, the measures we have taken and what we recommend they do.
Finally, customers can send their own engines and parts for repair as well. We make these repairs reasonably quickly. However, if a repair is urgent, we recommend the customer buys a new replacement, or a part TVH has already reconditioned and has in stock. The reconditioning and repairs are performed by a partner who uses spare parts from TVH. It's a close collaboration between professional companies that is filled with engine experts. In recent years, we have made a lot of improvements and optimised the quality of our product range.
What is the best way for customers to find the engine parts they need?
There are several ways to check out our range. We have an extensive engine catalogue, where you can see our range of engine parts for all major brands. The makes are listed alphabetically, so it's very easy to navigate. 
A really handy way to find what you need is our online platform: MyTotalSource. Using 'MyPartsFinder', it's quick and easy to see all of the available parts for your machine by selecting the make and type of machine. Or, if you already know what you're looking for, you can go straight to the part you need by entering the reference number. Even the most recent products will appear. As new engine types enter the market, we add them to our range and update MyTotalSource to make sure you'll find what you're after. 
TVH's greatest asset is our technically skilled staff. They are always standing by to help customers find the right engine part and answer any technical questions.  
What are your plans for the future? What would you like to improve?
Most of our spare parts are kept in stock, making fast delivery one of our strengths. If we want to continue to guarantee this service, we need to offer all spare parts for new engine types as well. We plan to tackle this proactively, in a project-based manner. This means we will have the part in stock and ready to be shipped, even before there is customer demand. 
Thank you, François! It's lovely to see that you are still passionate about your job. Even after 30 years. Ready for another 30?