The synthetic ground protection mats offer safe access and a solid base for your machine on unpaved surfaces, such as construction sites. Even zones that must be protected against damage and - as a result - aren't easily accessible with heavy equipment (e.g. festival grounds, golf courses, cemeteries …), become perfectly accessible.
Successfully used on many unpaved surfaces! Safe access and a sturdy base are extremely important for each person and vehicle, especially on construction sites.
Many applications:

Many advantages:

Horticulture
Lawns
Sports grounds
Golf courses
Civil construction
Temporary sidewalks
Festival areas

Extremely strong and flexible
High wear resistance
Easy to lay out
Extreme stability
Lightweight
No moisture absorption
Easy to clean
Easy to stack
TÜV*-approved 
AVAILABLE DIMENSIONS
Full overview of the range
Pictures to illustrate all advantages
Extra info about our range of outrigger pads and supporting blocks
INTEGRATED HANDLES
All ground protection mats have integrated handles on both ends that facilitate the placement and the precise alignment of the panels.
VIEW OUR MOVIE
Want to see all these advantages with your own eyes? Then view our movie and become a fan!
YOUR OWN LOGO OR COMPANY NAME ON YOUR PLATES
On top of that, with any order for 50 ground protection mats or more, you can have your company name engraved in your plates for free. The ideal way to recognise your plates on a construction site.
STORAGE RACK FOR GROUND PROTECTION MATS
We even have the solution to store your mats in an efficient way thanks to this storage rack.
Your advantages:
Convenient storage for multiple ground protection mats
Plates can easily be transported with a forklift truck
Available in 2 dimensions:
Length 2000 mm x Width 1000 mm x Stacking height 500 mm - REF 138TA8304
Length 3000 mm x Width 1000 mm x Stacking height 500 mm - REF 138TA8303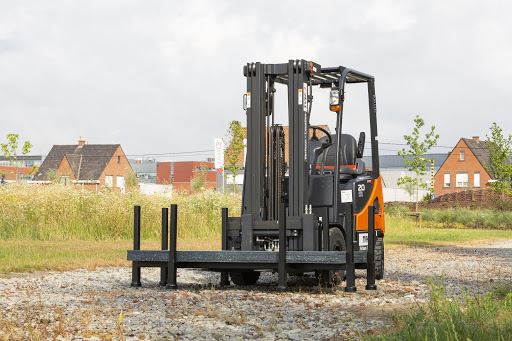 REQUEST YOUR PRICE VIA OUR ONLINE ORDER PLATFORM
Want to receive an offer? Log on or create your account in our order platform MyTotalSource. Forwarding price inquiries and orders is fast, easy and only one click away. Available 24/7.