PARTS & ACCESSORIES FOR AERIAL LIFTS
Aerial lifts, or MEWPs, are devices that are used to lift people to areas that are hard to access. They are ideal for maintenance or construction work. Since these devices are mostly used at altitude, they are also called aerial work platforms (AWPs).
We want to make sure any downtime of your aerial lifts are reduced to a minimum, by supplying replacement parts in time. We also want to make sure you can work safely at height at all times. We can guarantee both thanks to our high-quality spare parts and safety accessories for aerial lifts.
Makes and models
We have a database with over 44 500 000 part numbers, offering you a wide range of parts and accessories for aerial lifts. Our range includes parts and accessories for all kinds of aerial lifts: scissor lifts, telescopic boom lifts, articulated boom lifts, vertical mast boom lifts, spider aerial work platforms, tracked aerial work platforms, push-around lifts and trailer- and truck-mounted aerial work platforms.
We have parts and accessories suitable for:
Condor - Fabtec - Genie Aerial Lift - Grove - Haulotte - Hi-Reach - Hunter Lift - Lift-A-Loft - Manitou - Manlift - Marklift - Mite-E-Lift - Reach All - Signalier - Simon - Sky Climber - Skyjack - Snorkel - Strato-Lift - Terex - Upright
We have a large stock, so we can guarantee short delivery times. For some makes, including Genie and JLG, we are a true one-stop-shop where you can find and get everything you need within 24 hours.
Didn't find the aerial lift part you are looking for? There is a big chance that we can offer it anyway. Contact us today to find out more about our complete offer; we are happy to help you out.
Product Range
We offer a large product range which includes:
Alarms - Batteries - Battery Connectors - Bearings & Bushings - Brake Parts - Chargers - Circuit Boards - Circuit Breakers - Contactors & Contacts - Controllers - Cooling - Decals - Electrical - Engines - Filters - Forks - Fuses - Gaskets - Gauges - Horns - Hydraulic - Lighting - LPG - Motors - Pumps - Seals - Seats - Steering - Switches - Tires & Wheels - Transmission - Valves - Weldments - Wire & Cable
You can have immediate access to the parts catalog on in our online shop.
WHY CHOOSE TVH?
From the simplest pallet truck to the heaviest forklift, from the smallest nut to the complete chassis: you will find it all at TVH. We are your global one-stop-shop for parts and accessories for material-handling, industrial and agricultural equipment.
Our technically skilled employees are trained to understand the unique requirements of each brand and machine and provide professional service for all your technical questions.
We offer customer support in 42 languages to restrict language barriers to an absolute minimum.
We offer same-day shipment, next-day delivery to all our customers.
Easily search for parts online 24 hours a day, 7 days a week, to find what you need, when you need it. Our online platform gives you real-time pricing and availability and ensures your part is in stock when you order for the fastest possible delivery.

Global support team
With 62 different nationalities and 57 spoken languages in the company, we can offer customer support in your own language.

Over 50 years of experience
We've grown from 2 founders to a company of more than 5000 employees, with offices and distribution facilities on every continent.

47 000 000 known references
The most extensive range of parts for material handling, industrial, construction and agricultural equipment. We continuously grow our offer, with more parts and accessories arriving every day.

95% ship the same day
We collaborate with local shipping companies to deliver every order within the promised timeframe. To ensure a fast delivery, we ship 95% of orders on the same day of ordering.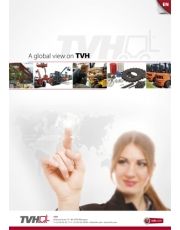 Broschüre herunterladen
Die zur Verfügung gestellten Informationen werden nur zu Informationszwecken über dieses Produkt verwendet.