We only distribute parts we know will match the standards our customers are looking for, and that's why we recommend EP. Our commitment to first-class service and our in-depth knowledge makes TVH the reliable partner you need for your EP parts. Furthermore, TVH offers:
Customer support in 55 languages.
A dedicated technical support team that will provide you with the best possible service imaginable.
A database of over 46 000 000 item numbers, of which more than 930 000 different references are in stock.
Looking for an EP supplier? Look no further. TVH is an official distributor for EP products. Get access to our online shop to find the full range of EP products, create offers and place orders.
About EP
EP Equipment, founded in 1993, is a Hangzhou-based leading manufacturer specialising in lithium-powered warehouse equipment. From product design and production to after-sales services, EP supports material handling equipment suppliers worldwide.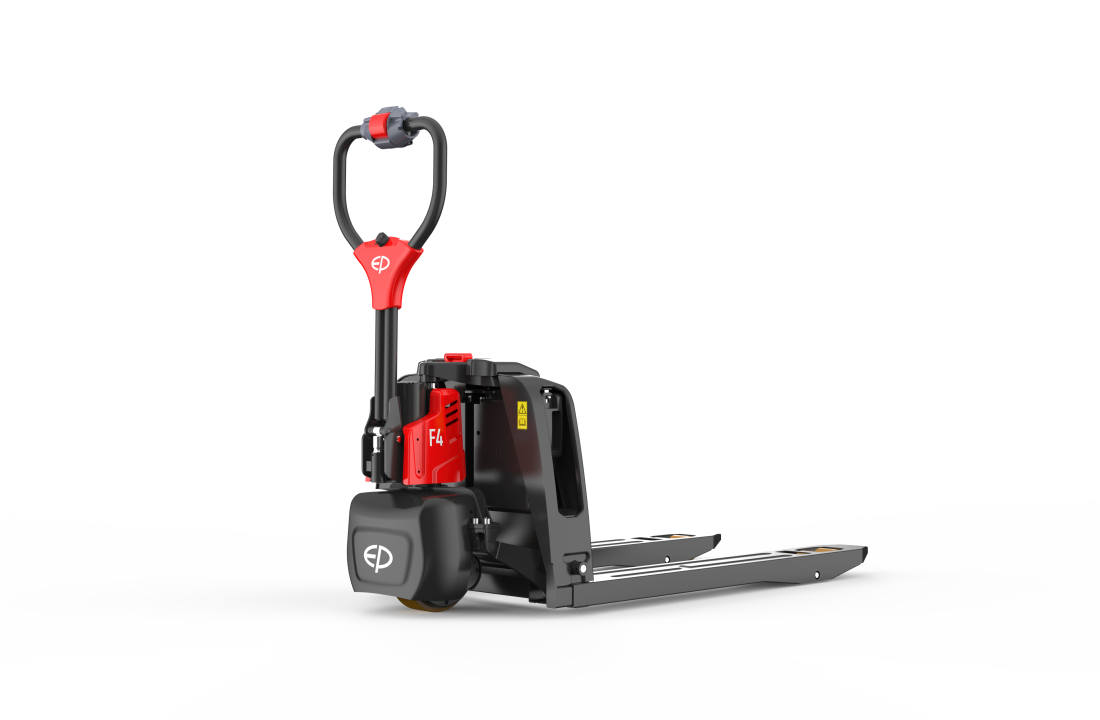 The EP product range at TVH
The core focus areas include warehouse solutions and OEM parts.

The newest EP product is the F4 electric pallet truck, offering the most cost-effective handling solution with maximum flexibility thanks to the configuration. Operators have options to choose one battery plus a portable storage container or two batteries to meet multiple work settings, from light to heavy duties, from indoors to outdoors.
 
Why choose EP Equipment?
EP has earned a world-wide reputation for outstanding quality and innovation in the material handling industry with hundreds of patents awarded in the United States, China and Europe. EP has also received global recognition by winning the Red Dot Design Award and iF Product Design Award. 90% of the components are designed and manufactured in house. They are also the number 1 class III manufacturer in the world and the number 1 market leader in lithium ion technology.

EP has a global engineering team of nearly 100 people and believes in a relentless focus on customer driven design. The focus on local leadership, design, quality control, technical documentation, product support and regulatory compliance enables EP to leverage the efficiencies that are gained from international manufacturing yet compete based on localized customization, intimate customer relationships and outstanding local support.
Learn more about EP in our catalogue
Browse our section of handy catalogues. They deliver useful information, along with technical datasheets containing all the details you need.
They're available in multiple formats. Click on the link below to download digital versions or order physical copies.
Why you should choose us as your EP Equipment distributor
With our comprehensive range of EP products at competitive prices, our network of regional warehouses and a dedicated technical support team, we can offer you the best possible service imaginable. You can even contact us for parts that you don't see in our online catalogues.
 
Global support team: With 62 different nationalities and 55 spoken languages in the company, we can offer customer support in your own language.
Over 50 years of experience: We've grown from 2 founders to a company of more than 5000 employees, with offices and distribution facilities on every continent.
46 000 000 known references: The most extensive range of parts for material handling, industrial, construction and agricultural equipment. We continuously grow our offer, with more parts and accessories arriving every day.
Buy your EP Equipment products in three easy steps
Go to our online shop to unlock our full EP product range. Once you have the access, you will be able to:
Order your full electric pallet truck and other EP products directly from TVH through your own software. 
Immediately see the price, lead time, availability, pictures and technical features for every EP reference.
Already have an account? Log in here.

New to TVH? Follow the three steps below to gain full access to our online shop with EP.
Request your customer account to shop parts online
STEP 1
Tell us about your company
Submit the application form to specify your business needs and request your customer account.
STEP 2
Your account creation
Our sales team will contact you within 3 business days to talk about your business needs and complete registration.
STEP 3
Access our online shop
After your account is set up, you will receive a personal login to our online shop. We will guide you in finding parts and placing your first order.
Get access to our full range of EP Equipment products in our online shop
Request your login details now.