Pallet truck for fish totes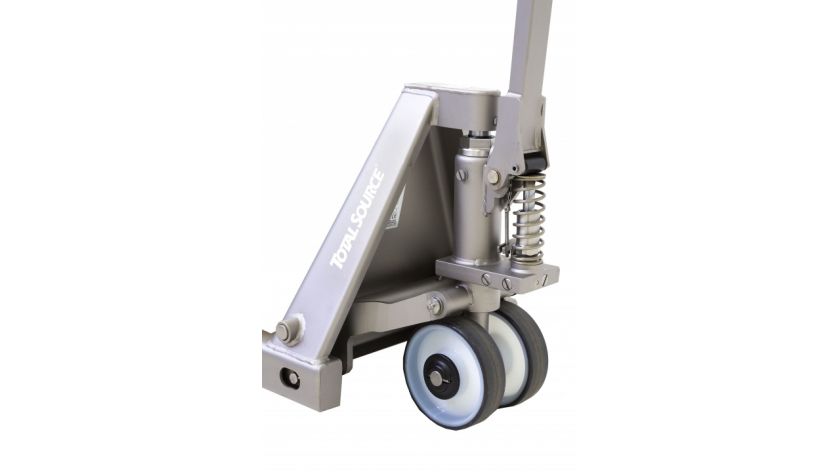 THE IDEAL MECHANICAL HANDLING TOOL TO TRANSPORT YOUR FISH CRATES EFFICIENTLY
Need to transport your fish boxes from one place to another in an easy and efficient way? This pallet jack for fishery boxes was specially designed to help you with this labour-intensive job, by reducing physical damage to yourself, your staff and the fish!
Advantages
Unload and transport fish quickly
One person can move more boxes
Less damage to the boxes, thus eliminating the need for new totes
The ergonomic design of this pallet truck reduces physical strain on the employees, resulting in happier workers
Why should you choose our stainless steel version?
Corrosion-resistant, making it the ideal pallet truck for food contact
Resistant to powerful detergents
Easy to maintain to a high standard of hygiene
Resistant to the wide range of temperatures frequently encountered in the production of foods
Technical information
Capacity: 1500 kg
Lowest fork position / Min height: 120 mm
Highest fork position / Max height: 230 mm
Length of the forks: 850 mm
Wheels: single / nylon
Weight: 62 kg
Possible versions
Galvanised steel: REF 165TA2862
Semi-stainless steel: REF 165TA2907
Stainless steel: REF 165TA2873
* Delivered without fish tote and designed for fish totes with inner dimensions: 450 x 800 mm

Other dimensions of fish totes? Please provide us with the inner dimensions of your fish totes and we will help you out!