Printed circuit boards for forklifts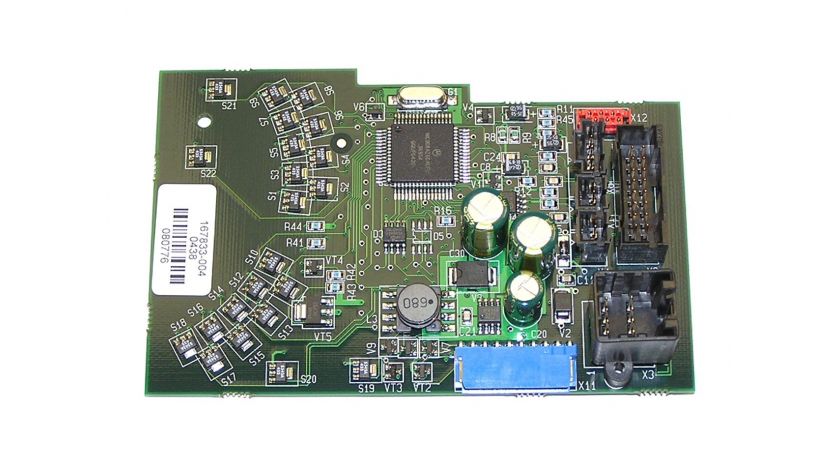 Product Range Printed circuit boards for forklifts
Besides printed circuit boards, we also have electronic speed controllers and displays in our wide range of products.
You will also find other electronics products at TVH:
Joysticks, accelerators and directional switches

Chargers

Contactors
Quality Printed circuit boards for forklifts
All printed circuit boards are repaired professionally, with an extensive range of tools to do so.

After they have been repaired, the printed circuit boards are rigorously tested.

As a finishing touch, we cover all printed circuit boards in a conformal coating to protect them against moisture and dirt.
We offer and repair parts for all big makes such as: 
Aichi - Atlet - Bosch - BT - Cableform - Caterpillar - Cesab - Clark - Crown - Curtis - Daewoo - Danaher-Motion - Elektrosistem - Fiat - General Electric - Genie - Grove - Haulotte - Hawker-Oldham - Hitachi - Hyster - Icem - Iskra - JLG - Jungheinrich - Komatsu - Lafis - Lansing - Linde - Manitou - Mitsubishi - Nich Yu-Nyk - Nissan - PG Drives - Pimespo - Pramac - Rocla - Sevcon - Still - TCM - Tennant - Toyota - Upright - Wagner - Yale - Zapi - Zivan - ...
Each of our engineers is specialised in a specific make so that we can guarantee an optimal quality thanks to optimal knowledge.

As a result of this thorough way of working, we were able to realise collaborations with:

Curtis

PG Drives Technology

Sevcon

SME
More advantages
Thanks to our extensive stock of 60 000 new and 11 500 electronic product items, we can guarantee a fast delivery.
You will surely find what you're looking for, at every price level. We offer original as well as reconditioned parts. In both cases, you enjoy a guaranteed superior quality.
Want to get rid of your old electronic parts? We buy your cores if they are in a repairable condition. Complete our 'Core purchase' document and mail it to us.
More info
Discover our Electronics department! Visit our web page and discover more info about our products and services, such as the repair of your electronic parts.
Download our Electronics department brochure for free.
Feel free to contact us in case you desire more info or need further help.