31 October 2023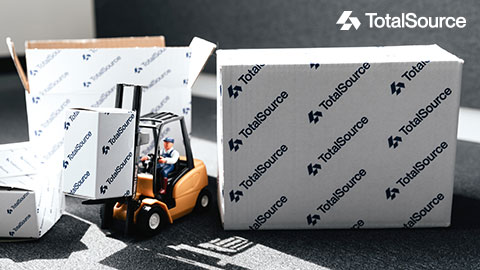 Today marks a new chapter for our private product label TotalSource. TVH's own brand of quality parts and accessories for material handling, construction, industrial and agricultural equipment gets a contemporary new visual identity. This update fits into further establishing TVH as the global parts player it is today. 
Your reliable choice
Our unwavering commitment to quality remains unchanged and is now aligned with the core principles that TotalSource stands for: 
Quality in every part
The widest range
The right price
TotalSource in facts and figures
TotalSource has been part of TVH since 2003. From that moment onwards, we rolled out TotalSource as a private brand of TVH on a global scale. 
Today, TotalSource counts more than 350 000 stock units which are shipped to 182 countries worldwide, making it a preferred choice for our customers. 
TotalSource's upcoming changes
Over the next few weeks and months, you'll notice TotalSource's fresh logo and aesthetic replacing our previous packaging. Additionally our new logo will start to appear on labels, e-commerce, manuals and more.
We hope you find it as appealing as we do! 
Back to overview