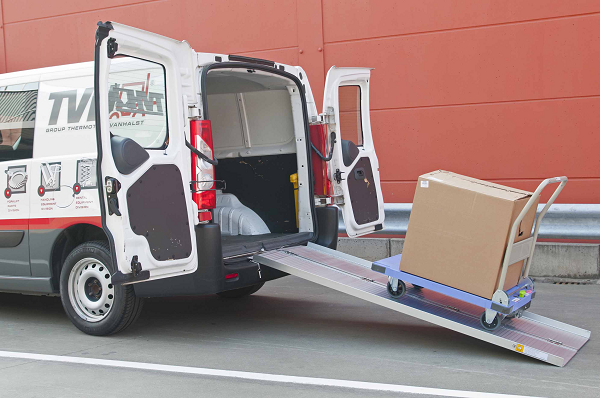 Loading goods in your vehicle in a comfortable way is perfectly possible. Our loading ramps offer the solution and can be used for many different activities. Discover our wide range of loading ramps and find various sizes with different capacities, designed to help you load or unload your goods in a safe and fast manner. Furthermore, we offer:
Many stock items to ensure fast delivery.
Customer support in 57 languages.
A dedicated technical support team that will provide you the best possible service imaginable.
Create a free account for our online shop. You will get access to a vast range of loading ramps. Already have an account? Log in now!
Discover our range of loading ramps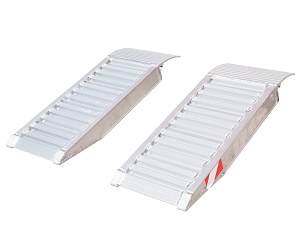 Treshold loading ramps
These types of loading ramps ensure that small obstacles no longer pose a problem for e.g. wheelchair users and other people with reduced mobility. During road works or in public places, you can easily go anywhere with several means of transport that don't exceed the maximum capacity of the loading ramp. All threshold ramps are provided with a non-skid layer and are available in different dimensions to meet your needs.
Features
Ideal for small obstacles or other small differences in height such as containers or low thresholds.
Provided with a non-skid layer which makes slipping impossible.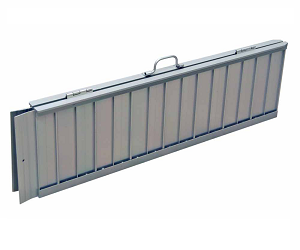 Foldable loading ramps
Our range of high-quality foldable loading ramps consists of retractable and collapsible aluminium ramps. Moving these ramps is easy thanks to their low weight and integrated handles. With their non-skid profile, they are very suitable for different means of transport, such as mobility scooters, wheelchairs, scooters, mopeds, bikes and so on.
Features
Sufficiently wide so that a wheelchair can also pass over.
Provided with a non-skid layer which makes slipping away impossible.
Equipped with handle for easy transport.
Less storage space required to the possibility to fold up the ramp.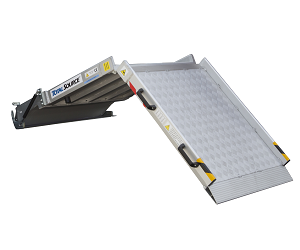 Foldable loading ramps for installation in vehicles
Looking for a loading ramp to load your goods into your van? This vehicle-mounted folding loading ramp will save you valuable time. The ramp is easy to (dis)assemble thanks to just two clips and can be installed onto various vehicles with similar dimensions. The compact model is lightweight and easy to handle, which makes it an ergonomic solution for loading and unloading goods into or from your van. This model is available in different sizes
Features
Light and easy to handle thanks to its ergonomic design.
Easy to (dis)assemble, fully fitted with only 2 clips.
Fits into most light commercial vehicles, ideal for small loading needs.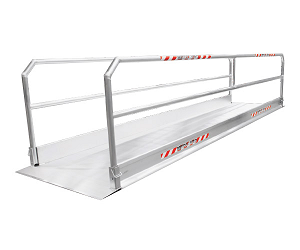 Pedestrian bridges
Pedestrian bridges are particularly suitable for overcoming architectural barriers such as trenches. They offer a temporary solution to make sure people can cross safely. They are equipped with a non-skid surface, folding handrails and safety stops.
Features
Gives you the possibility to let people cross over safely.
Made of strong aluminium which ensures a long lifespan.
The handrails provide a defined and safe crossing point.
Narrow storage space required to the foldable handrails.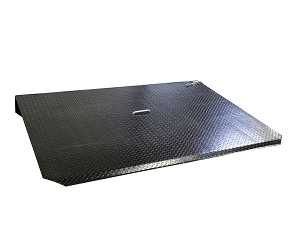 Container loading ramps
Thresholds when entering a container are no longer a problem when using these container loading ramps. They allow you to smoothly drive into a container with a forklift, pallet truck or other equipment, in a simple and safe way.
Features
Allows for quick entry in a container.
Goods remain stable on your transport equipment.
Truck wheels no longer have to absorb the shock when going over the threshold, which means they last longer.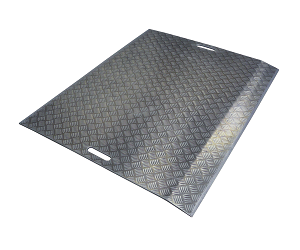 Loading bridges
Loading bridges are specially designed to bridge the gap between the loading dock and the container. These aluminium transportable solutions are a lightweight yet durable construction with non-skid aluminium sheets. In this way, they can quickly and easily be moved to another position or loading dock. They are ideal for use in logistics companies where internal means of transport such as trolleys and pallet trucks are used.
Features
Creates a gangway from the trailer to the loading dock.
Makes loading and unloading faster because you don't need to get off the trailer with your goods.
Provided with a non-skid layer which makes slipping impossible.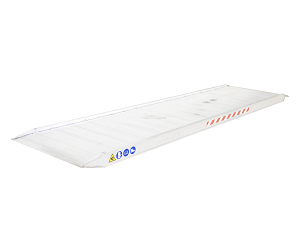 Loading ramps for motorcycles, lawnmowers, …
This range can be used for many different applications in various sectors. The holes in the aluminium ensure excellent grip and allow you to easily remove mud and snow. Despite their low weight and thin profile, the load capacity is sufficiently high to easily load motorcycles, lawnmowers, electric generators, wheelbarrows, wheelchairs, pallet trucks, trolleys ...
Features
Excellent grip ensures a safe way of loading.
Lightweight aluminium makes them easy to move.
With end caps to prevent the tab disconnecting from the ramp during use.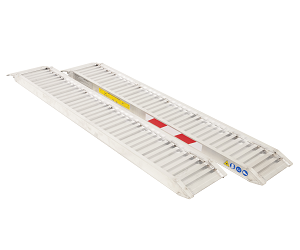 Loading ramps for rubber-tracked and medium-heavy vehicles
Looking for loading ramps that can handle medium to heavy weights? This range, made of high-quality extruded aluminium profiles, will help you out! This way, even smaller heavy equipment can be loaded easily. These aluminium loading ramps are available with or without raised edges.
Features
Particularly suitable for moving rubber-wheeled vehicles used in various sectors.
Made with high-quality extruded aluminium profiles.
With end caps to prevent the tab disconnecting from the ramp during use.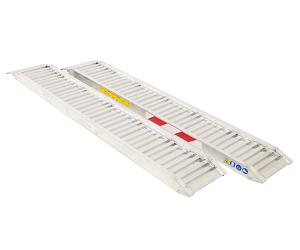 Loading ramps for tracked heavy-duty vehicles
The strongest and most robust ramps in this range are suitable for use in combination with heavy-duty machinery used in various sectors, from agriculture to gardening and construction to earth-moving, such as tractors, excavators, bulldozers and mobile elevating work platforms. They are also particularly suitable for loading and unloading containers. Available in various widths and with different types of head connections, the ramps are particularly valued by manufacturers of heavy trailers as they are perfectly suited to their needs. The range is available with and without raised edges.
Features
With end caps to prevent the tab disconnecting from the ramp during use.
Equipped with carabiner clip with steel chain to hook to the loading bed for extra strong attachment.
Made with high-quality extruded aluminium profiles.
Have you seen our product movie yet?
Have a look at our catalogue
Discover our full product range of material handling equipment in our catalogue. It's divided into different chapters, based on the type of product you need. Almost each chapter contains a guide to help you choose the right product based on technical specifications, conditions of use or easy questions and answers.
Have a look in our material handling equipment catalogue.
Why you should choose us as your loading ramp supplier
With our comprehensive range of loading ramps at competitive prices, next day delivery from our network of regional warehouses and a dedicated technical support team, we can offer you the best possible service imaginable.

Global support team
With 62 different nationalities and 57 spoken languages in the company, we can offer customer support in your own language.

Over 50 years of experience
We've grown from 2 founders to a company of more than 5000 employees, with offices and distribution facilities on every continent.

47 000 000 known references
The most extensive range of parts for material handling, industrial, construction and agricultural equipment. We continuously grow our offer, with more parts and accessories arriving every day.

95% ship the same day
We collaborate with local shipping companies to deliver every order within the promised timeframe. To ensure a fast delivery, we ship 95% of orders on the same day of ordering.
Buy your loading ramps in three easy steps
Go to our online shop to unlock our full range of loading ramps. Once you have the access, you will be able to:
Order your loading ramps directly from TVH through your own software. 
Save research time and reduce search errors by registering your loading ramps in our tool. You can personalise your equipment by adding your own reference, images, documents and notes.
Immediately see the price, lead time, availability, pictures and technical features for every reference.
Already have an account? Log in here.
New to TVH? Follow the three steps below to gain full access to our online shop with loading ramps.
Request your customer account to shop parts online
STEP 1
Tell us about your company
Submit the application form to specify your business needs and request your customer account.
STEP 2
Your account creation
Our sales team will contact you within 3 business days to talk about your business needs and complete registration.
STEP 3
Access our online shop
After your account is set up, you will receive a personal login to our online shop. We will guide you in finding parts and placing your first order.
Request your login details now
Get access to all our full range of loading ramps in our online shop.