TERMINAL TRACTOR PARTS & ACCESSORIES
A terminal tractor is a machine designed to move trailers. It can be used in distribution centres, RoRo and terminal ports and industry. We know that it's important that your terminal tractor can keep on going, that's why we can offer all parts for your terminal tractor.
Makes and models
It's important to maintain your machine in a good manner and you can do that by using high-quality parts and accessories. TVH has over 12 600 references in stock and more than 121 000 known references. We provide quality replacement parts for many brands and makes, including the hard-to-find ones. 
Our terminal tractor parts are suitable for:
CVS Ferrari - Kalmar - MAFI - Ottawa - Terberg - ...
We have all fast-moving parts in stock for the most important brands. So we can guarantee a fast delivery for every fast-moving part or accessory you need.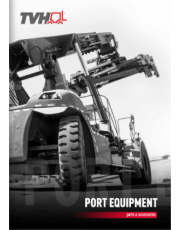 Find replacement parts for container handling equipment in our catalogue
With this handy checklist, you can check off daily, quarterly and yearly tasks. In this way, the maintenance of your machine can't be forgotten, but you also save money in the process.
DOWNLOAD OUR CHECKLIST TO MAINTAIN YOUR MACHINE PROPERLY (AND SAVE MONEY)
TERMINAL TRACTOR PARTS
At TVH, you can find transmission parts, brake pedals, engine parts, drive & steering axle parts, electrical parts, hydraulic parts, fifth wheel and a lot more. All terminal tractor parts are subjected to thorough quality testing. 
Furthermore, TVH is your one-stop shop for all your filtration solutions. In addition to well-known filter brands, TVH also has an own TotalSource range that offers you filters at the best price/quality ratio. Find our complete range in our catalogue "Filters". 
Brake pedals / accelerators & hydrovac
Electronic and hydraulic joysticks and control levers
Engine parts
Front and rear axle parts
Seats
Transmission parts
Wheels
TERMINAL TRACTOR ACCESSORIES
In addition to parts, you can also find an extensive range of terminal tractor accessories, including lights, camera systems ...
WHY CHOOSE TVH?
From the simplest pallet truck to the heaviest forklift, from the smallest nut to the complete chassis: you will find it all at TVH. We are your global one-stop shop for parts and accessories for material handling, industrial and agricultural equipment.
Our technically skilled employees are trained to understand the unique requirements of each brand and machine and provide professional service for all your technical questions.
We offer customer support in 37 languages to restrict language barriers to an absolute minimum.
We offer same-day shipment, next-day delivery to all our customers.
Easily search for parts online 24 hours a day, 7 days a week, to find what you need, when you need it. Our online platform MyTotalSource gives you real-time pricing and availability and ensures your part is in stock when you order for the fastest possible delivery.
NEED MORE INFORMATION?
Search for your terminal tractor parts via MyProductSearch or via MyPartsFinder in MyTotalSource.
Should you need any further information, please feel free to contact us.