What is a pallet truck?
A pallet truck, also called a pallet jack, is a device that can greatly facilitate moving and lifting goods within the working environment. This internal transport equipment makes loading and unloading more efficiently, which results in a more productive working day.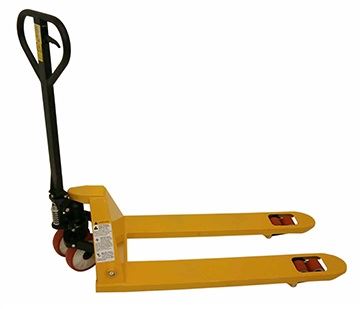 Various types of pallet trucks in the TotalSource® range:
standard manual pallet trucks
scissor pallet trucks
silent pallet truck
weighting pallet trucks
With the exception of the silent pallet truck, each type is available in a stainless steel or galvanised version.
Why opt for a silent pallet truck?
The reason is simple: it is remarkably more quiet. This type of pallet truck is equipped with three polyurethane fork wheels on each fork, as a result of which transporting is smoother and quieter. 
Type of operation
Whether you are looking for a manual, semi-electric or fully electric pallet truck, you can find them all at TVH. On a manual pallet truck, lifting and moving is done manually, while on a semi-electric pallet truck the lifting is done electrically. Do you also want to move electrically? Then you should opt for a fully electric pallet truck.
Material of the wheels
The material of the fork or steering wheels consists of polyurethane, rubber or nylon. 
Polyurethane (PU) wheels can be used for many in- and outdoor applications. 
These wheels are quiet and very shock-absorbing, as a result of which they are very suitable for both hard and soft surfaces. In addition, polyurethane wheels are wear-resistant, so they can easily overcome small debris and little obstacles on the floor. Thanks to the low rolling resistance, you can move your loads very efficiently. 
Rubber wheels are frequently used in industrial applications (warehouses, workshops and the transport sector). They are silent and roll easily. In addition, the metal wheel cores provide them with a long lifespan. All these characteristics ensure a smooth transport of delicate goods and fragile articles.
Nylon wheels are often light and have a high shock resistance. They are resistant against water and chemical cleaning agents. These wheels leave no markings on the floor, thus providing excellent floor protection. As these wheels are less shock-absorbing, they are slightly louder during transport. 
Accessories
In addition to pallet trucks, you can also find numerous accessories and tools at TVH. After all, an optimal maintenance requires high-quality equipment. In our 'Consumables & accessories' catalogue, you can find a wide variety of work tools and maintenance products.
Are you still looking for the correct wheels or other parts? Then definitely also have a look in our 'Pallet truck parts' catalogue.