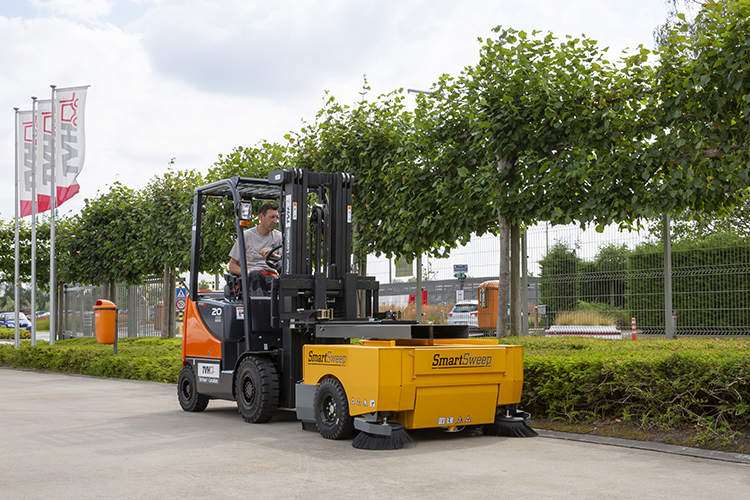 Looking for a partner to help you with your cleaning activities? Dust, dirt, nails, in -or outdoors? With our range of floor sweepers, we are able to provide the perfect solution to clean every surface. From easyto-use mechanical attachments to compact manual sweepers, we have it all. Furthermore, we offer:
Many stock items to ensure fast delivery.
Customer support in 42 languages.
A dedicated technical support team that will provide you the best possible service imaginable.
Create a free account for our online shop. You will get access to a vast range of floor sweepers. Already have an account? Log in now!
Discover our range of floor sweepers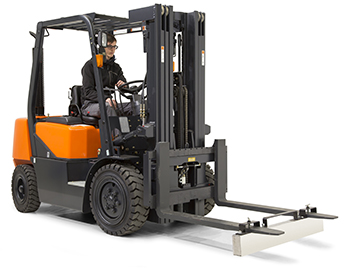 Magnetic Sweeper
Prevent punctured tires by using our Magnetic Sweeper. The Magnetic Sweeper eliminates iron objects and steel trash from service/maintenance areas, lots, ramps and loading docks. This sweeper is also ideal for keeping car parks, container depots and warehouses free of metal debris such as nails, nuts and more.
Features
High-quality magnets that are built to last.
Designed for easy mounting on tow tractors, forklifts, etc.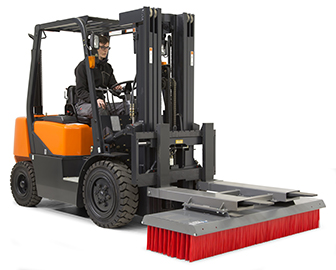 LazySweeper
The main idea behind this floor sweeper is efficient cleaning through simple operation. The easy-to-use broom can be fitted onto the forklift in just a few seconds. You only need to slide the forks into the fork sleeves and secure them. You're immediately able to sweep up all trash that accumulates in your warehouse and surroundings. We can offer you 3 different sizes, ranging from 5 to 11 bristle rows. The medium and large version are equipped with side supports, as a result of which the brush doesn't have to rest on the floor when it's not in use.
Features
Highly durable: no moving parts that can break down
Low cost of ownership: low bristle wear for a long life span, sweep up to 700 km before changing bristles
Able to push bulk wares: mulch, timber scraps, plastic, granules, aggregates, etc. (type M and L)
Easy bristle replacement saves you time when the job is finished › Support legs (type M and L) ensures that the brush does not have to rest on the ground when not in use
With fork lock pin so that the brush can certainly not slide off the forklift truck (type M and L)
All replacement parts available so you can quickly reuse your machine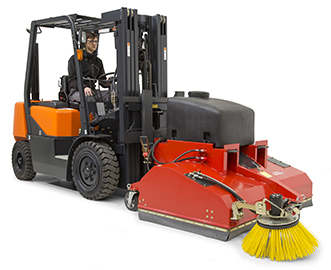 Hydro Sweeper
The Hydro Sweeper is a sweeper attachment that fits easily and quickly onto most lift trucks. The waterjet system ensures that dust can't be redistributed and the cylindrical brush is fully enclosed, so dust-free sweeping is guaranteed. The brushes are hydraulically driven and the waste collector is hydraulically emptied. All these functions can be operated by 1 double-acting valve.
Features
Cylindrical brush fully enclosed: dust-free sweeping guaranteed
Integrated main and side brush for optimal sweeping results
Pendulum suspension allows for sweeping on irregular surfaces
V-shaped cylindrical brush ensures better filling of the waste collector
All functions can be operated by 1 double-acting valve
All replacement parts available so you can quickly reuse your machine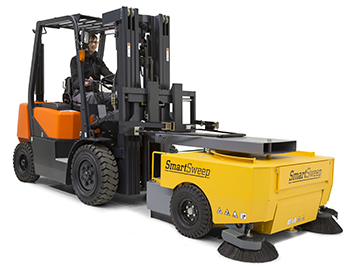 SmartSweep
The floor sweeper can be mounted onto your diesel, LPG or electric lift truck and is the ideal tool for you to remove dust and dirt. The attachment requires no hydraulic connections and can be used to sweep in- or outside your warehouse (in dry conditions). This is a universal model that can be mounted on all lift trucks in less than 1 minute thanks to the easy and fast installation procedure
Features
Ideal tool to remove dust and dirt in dry conditions
Easy-mounting on your lift truck so you can get started quickly
All replacement parts available so you can quickly reuse your machine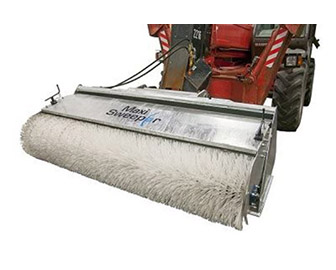 Maxi Sweeper
The Maxi Sweeper is an efficient and quick solution for cleaning large outdoor surfaces. The broom is perfect for sweeping and removing material such as snow, leaves, dirt, light gravel ... This floor sweeper, specially designed for Manitou telehandlers, has a built-in hydraulic motor and is easy to empty by tipping the collector bin. There are different sizes available, depending on your needs
Features
Based on a galvanised collector bin with a blade made of wear-resistant HB400 which easily scrapes off sticky soil
High collection capacity › Easy to empty by tipping the collector bin
Height adjustment of the sweeper brush by means of 2 adjustable supports inside the collector bin
Brush made of synthetic material or mixed synthetic / steel
Also available for other makes › All replacement parts available so you can quickly reuse your machine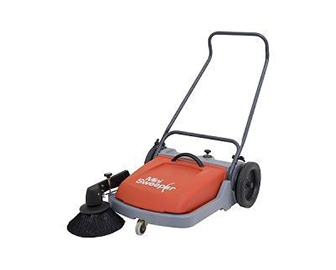 Mini Sweeper
Get started with the practical Mini Sweeper for small in- and outdoor areas. This push-type sweeping machine features new innovative anti-wrap technology which prevents threads, wires and long thin materials to get wound on the brush shaft thus providing non-stop sweeping performance. With this floor sweeper, borders and stairs pose no problems thanks to the large wheels at the rear of the machine.
Features
Collects various type of dust and debris: paper, stone, wood, glass, leaves
Many application areas: apartments, car parks, fuel stations, industries, plants and township roads, warehouses …
The side brush thoroughly sweeps the dirt from corners and borders directly into the path of wide cylindrical brush
The dirt collector bin is easy to remove
The position of the handle can be adjusted thanks to its ergonomic design
Borders and stairs are not a problem thanks to the large wheels at the rear of the machine
Shockproof steel frame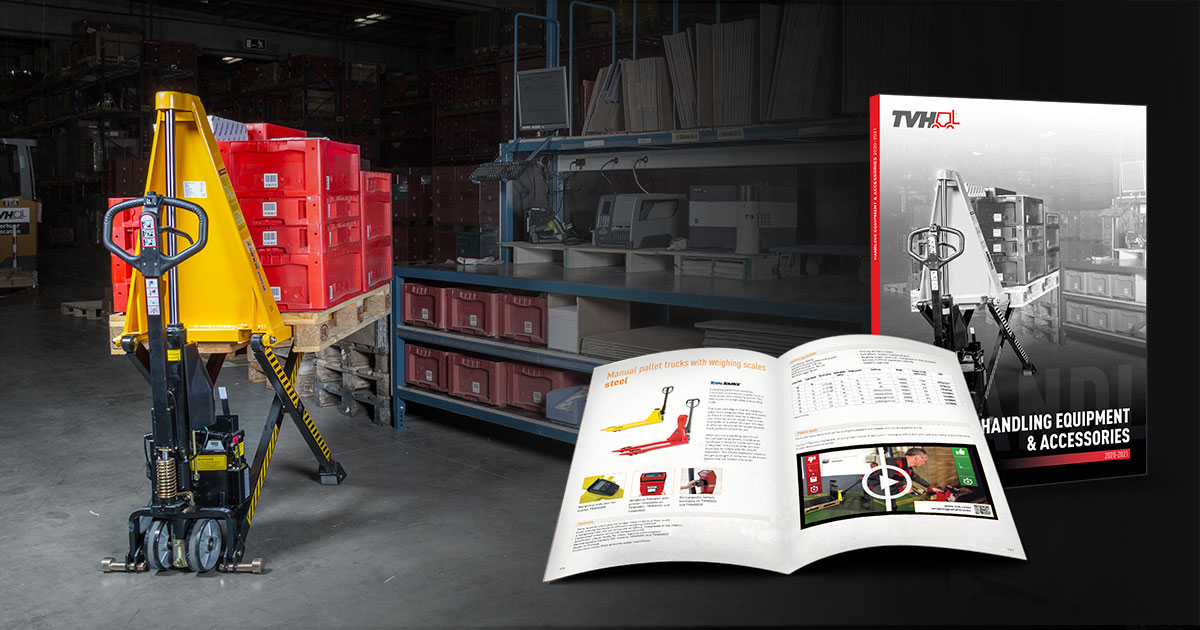 Have a look at our catalogue
Discover our full product range of material handling equipment in our catalogue. It's divided into different chapters, based on the type of product you need. Almost each chapter contains a guide to help you choose the right product based on technical specifications, conditions of use or easy questions and answers.
Have a look in our material handling equipment catalogue.
Why you should choose us as your floor sweeper supplier
With our comprehensive range of floor sweepers at competitive prices, next day delivery from our network of regional warehouses and a dedicated technical support team, we can offer you the best possible service imaginable.

Global support team
With 62 different nationalities and 57 spoken languages in the company, we can offer customer support in your own language.

Over 50 years of experience
We've grown from 2 founders to a company of more than 5000 employees, with offices and distribution facilities on every continent.

47 000 000 known references
The most extensive range of parts for material handling, industrial, construction and agricultural equipment. We continuously grow our offer, with more parts and accessories arriving every day.

95% ship the same day
We collaborate with local shipping companies to deliver every order within the promised timeframe. To ensure a fast delivery, we ship 95% of orders on the same day of ordering.
Buy your floor sweepers in three easy steps
Go to our online shop to unlock our full range of floor sweepers. Once you have the access, you will be able to:
Order your floor sweepers directly from TVH through your own software. 
Save research time and reduce search errors by registering your floor sweepers in our tool. You can personalise your equipment by adding your own reference, images, documents and notes.
Immediately see the price, lead time, availability, pictures and technical features for every reference.
Already have an account? Log in here.
New to TVH? Follow the three steps below to gain full access to our online shop with floor sweepers.
Request your customer account to shop parts online
STEP 1
Tell us about your company
Submit the application form to specify your business needs and request your customer account.
STEP 2
Your account creation
Our sales team will contact you within 3 business days to talk about your business needs and complete registration.
STEP 3
Access our online shop
After your account is set up, you will receive a personal login to our online shop. We will guide you in finding parts and placing your first order.
Request your login details now
Get access to all our full range of floor sweepers in our online shop.