Workshop supplies, warehouse supplies and PPE
TVH makes the maintenance, repair and operation (MRO) of industrial vehicles easier than you would have dreamed possible. But did you know we also have everything you need to improve efficiency and safety in your warehouse, factory or workshop? You need just one website. One payment. One delivery. And you'll have everything you need. You find exactly what you're looking for while you save time, your efficiency skyrockets and your costs are slashed.
Why is TVH your ideal partner for workshop supplies, warehouse supplies and PPE?
Whether you're looking for anything from oils and greases to hand tools and power tools, you'll find them at TVH. And not just the industrial supplies or garage supplies you need to keep your business running at full speed: you'll also find everything you need to make your workplace or workshop safe for everyone who sets foot inside. From spill control and personal protective equipment (PPE) to personal care and cleaning, you'll be able to operate with ultimate safety and the efficiency that keeps your business booming.
The benefits for you?
One-stop shop: Everything you need is in one place. And not just your spare parts. You'll also find what you need for the quick, safe assembly of your equipment. If you're replacing a chain, you'll find everything from chain spray to hand soap, or if you're planning to work on an engine, you'll find antifreeze, oil and everything else you might need to get the job done. Pop it all in your digital shopping trolley, cut down on your delivery fees and have it at your doorstep in next to no time.
Excellent service: You'll have exactly what you need for your maintenance, repair and operations in a few mouse clicks.
Fast delivery: We keep an enormous range of products in stock, immediately available and ready to head out the door to your waiting hands. 
Quality: TVH is committed to providing high-quality, reliable MRO products. We work with brands we know and trust. Why? This way, when you turn to us for your safety products and personal protection equipment (PPE), for example, you'll have every reason to wholeheartedly trust us and our range.
Competitive prices: You and your wallet benefit from the strong partnerships we have with our suppliers. And as we are a one-stop shop, everything you need is delivered in one shipment, decimating your transport costs, increasing your efficiency and making everything more convenient than you would ever have expected.
The products
Our workshop supplies, warehouse supplies and PPE range has everything you'll ever need. We made it easier for you to find what you're looking for by creating seven different categories.
Tools, machines and accessories
All the hand tools, power tools, welding machines, blowtorches, air compressors, parts cleaning and washer tables, measuring tools and markers you'll ever need! As well as the accessories and related consumables like soldering wire, drill bits, bolts and cutting discs.
Chemicals, oils, greases, paints and other fluids
Do you need oils, greases, brake fluids or the invaluable assistance of AdBlue? Are you looking for paint, painting tools or fillers? Perhaps you're after cleaning sprays, lubricants or multi-sprays? You'll find them here, as well as other quality products you may not have known existed until you desperately needed them …
Labels and decals
Labels save lives. Please make sure your labelling is correct, accurate and visible. At TVH, our range includes individual labels and full sets of decals for your machine, as well as ISO 7010 decals for warehouses and other sites.
Hygiene
Want to keep your workplace clean? You'll find brooms and spill control kits, floor cleaner and more. And once you've finished a day of work? We have the soaps to wash even the most stubborn grease, grit and grime from your hands before you head home.
Safety
What can you do to make your workplace safer? Do you need anti-skid material on the floor? Do you have adequate signage on the walls? Are first-aid kits and fire safety equipment easily accessible in case of an accident? Make sure you have what you will hopefully never need to use.
Personal protective equipment (PPE)
Your workers left their homes fit and healthy. With PPE, you make sure they go home the same way. Quality safety goggles, reliable head protection, strong safety shoes, and the right work gloves for the job at hand. Respiratory protection and hearing protection are vital. Don't forget to check out the latest additions to the world of high-visibility clothing.
Other warehouse and workshop supplies
Are you looking for knee mats or trolleys? Perhaps a cabinet or a cable reel? You might need a workbench or a vice to attach to it. You'll find them collected here, along with all the other products you need for your maintenance, repairs and operations.
Take a look at our full range:
Brands you know and trust
Quality and reliability are the best foundations if you want to operate with safety and efficiency. This is why our workshop and warehouse materials, industrial supplies and personal protection equipment (PPE) come from brands you know and trust. You'll find an extensive—but carefully selected—choice of their products and MRO materials in our range.
Need more information?
Are you interested in a specific product?
Let us help you find it. Log into our online shop and use MyProductSearch to find the exact product you're looking for.
Browse the full range
Do you like high-quality? And do you prefer it at low prices? You'll love our 'Consumables and accessories' catalogue.
What if you can't find what you're looking for?
A product or part that's not in our range? Either we offer a superior alternative, or we want to know about it! Contact us today.
Do you have any questions? Or is there any other way we can help?
One quick phone call is all it takes. You'll have an answer to your question and a smile on your face. Don't hesitate to contact us!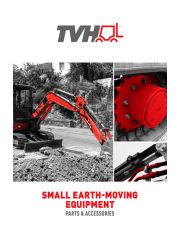 Download your free small earth-moving product special
The provided info will only be used for info about this product.
Need more information?
Do you have any questions or remarks? Please contact us, we will gladly help you!