PARTS & ACCESSORIES FOR MOBILE ELEVATING WORK PLATFORMS (MEWP)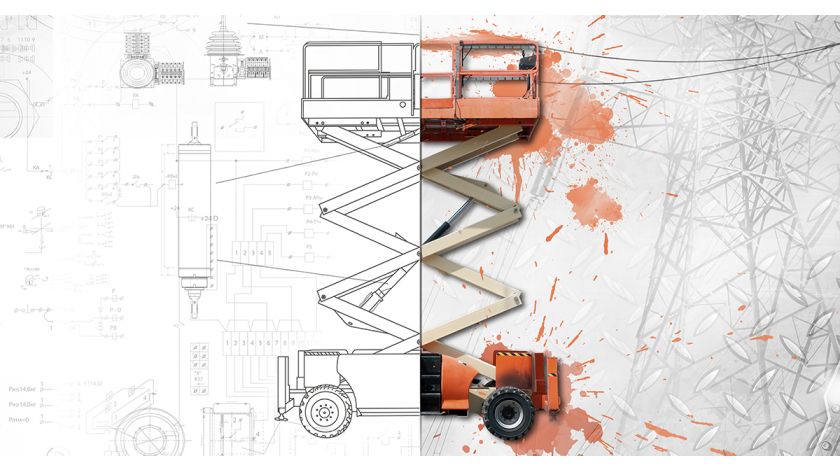 Mobile elevating work platforms, or briefly MEWPs, are devices that are used to lift people to areas that are hard to access, usually at height. They are ideal for maintenance or construction work. Since these devices are mostly used at altitude, they are also called aerial work platforms (AWPs).
We want to make sure any downtime of your MEWPs is reduced to a minimum, by supplying replacement parts in time. We also want to make sure you can work safely at height at all times. We can guarantee both thanks to our high-quality spare parts and safety accessories for MEWPs.
Makes and models
We have a database with over 109 000 stock items and over 1 220 000 known references, offering you a wide range of parts and accessories for mobile elevating work platforms. Our range includes parts and accessories for all kinds of MEWPs: scissor lifts, telescopic boom lifts, articulated boom lifts, vertical mast boom lifts, spider aerial work platforms, tracked aerial work platforms, push-around lifts and trailer- and truck-mounted aerial work platforms.
Our parts and accessories are suitable for:

Aichi - Airo - ATN - Braviisol - CTE - Dingli - Dinolift - Genie - Grove - Haulotte - Hinowa - Holland Lift - Imer - Iteco - JLG - Liftlux - Manitou - MEC - Nagano - Niftylift - Ommelift - Skyjack - Snorkel - Terex - Teupen - Upright - Versalift - Youngman - …
We have a large stock, so we can guarantee short delivery times. For some makes, including Genie and JLG, we even are a true one-stop shop where you can literally find and get everything you need within 24 hours.
Didn't find the MEWP part you are looking for? There is a big chance that we can offer it anyway. Contact us today to find out more about our complete offer; we are happy to help you out.
Find replacement parts for your mobile elevating work platform in our brand-new catalogue
PARTS FOR MOBILE ELEVATING WORK PLATFORMS
Thanks to our quality parts, you are sure that your mobile elevating work platform remains in good shape and is operational at all times. Some parts are even available in both new and rebuilt condition. Our offer includes joysticks, printed circuit boards, wheels, tyres, hydraulic parts, filters, batteries and (integrated) chargers …
To ensure that mobile elevating work platforms can be operated safely at all times, the correct wheels or tyres must be fitted. Are you looking for the correct ones for your machine? TVH can offer two types: mould-on (non-)marking wheels and foam-filled tyres, each designed specifically for MEWPs.
When it comes to (integrated) batteries and chargers, TVH is the place to be. We are official distributor of Delta-Q battery chargers. Delta-Q's unique mix of technical capabilities in highly efficient power electronics and embedded software results in innovative battery charging solutions.
ACCESSORIES FOR MOBILE ELEVATING WORK PLATFORMS
In addition to parts, we also offer MEWP accessories, including aerial tool bins, wheel covers, labels, decals …
When working at altitude with a mobile elevating work platform, it is important to follow safety regulations. That is why we gladly assist you with useful products and accessories that will certainly make your working environment safer, such as fall arrest systems.
We also recommend our high-grade synthetic ground support and stabiliser plates.
Labels & decals
Battery regenerator
Paint
Key switches
Synthetic ground support plates
Tire lock
Aerial tool bin
Height safety kit
Wheel covers
Twiggy seals & document holders
Stabiliser plates
Blog
Do you want more info about mobile elevating work platforms or are you looking for tips on how to work safely at all times? Then be sure to check out these blogs:
WHY CHOOSE TVH?
From the simplest pallet truck to the heaviest forklift, from the smallest nut to the complete chassis: you will find it all at TVH. We are your global one-stop shop for parts and accessories for material handling, industrial and agricultural equipment.
Our technically skilled employees are trained to understand the unique requirements of each brand and machine and provide professional service for all your technical questions.
We offer customer support in 37 languages to restrict language barriers to an absolute minimum.
We offer same-day shipment, next-day delivery to all our customers.
Easily search for parts online 24 hours a day, 7 days a week, to find what you need, when you need it. Our online platform MyTotalSource gives you real-time pricing and availability and ensures your part is in stock when you order for the fastest possible delivery.