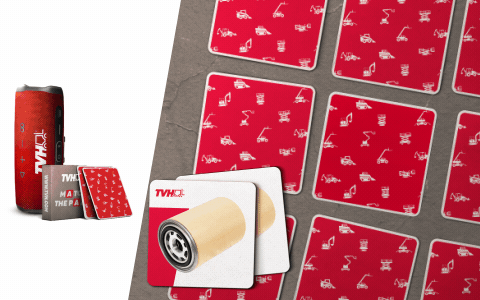 The search for the right parts for construction machines isn't always easy. To find your perfect match easily, you need a supplier with an extensive parts range, like TVH! And this month only, perfect matches can even lead to amazing gifts:
Step 1: Play the 'Match the Parts' game
Step 2: Finish in record time
Step 3: Shop at least € 250 of selected products to get your gift!*
* Terms and conditions apply. Action valid until 31 May.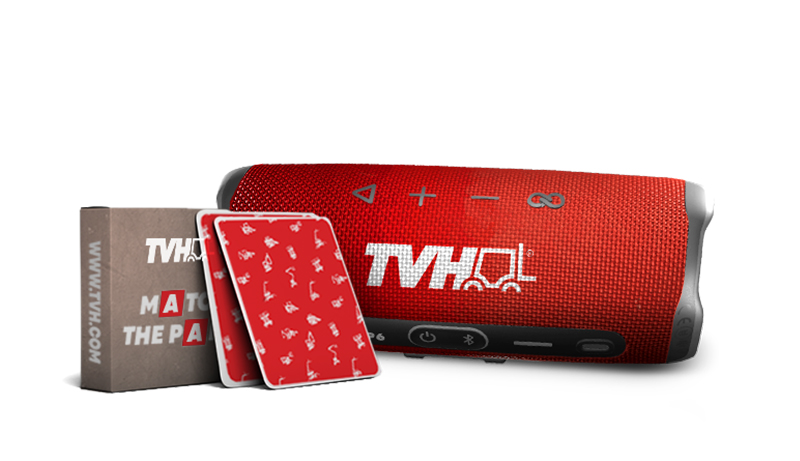 Ready to put your short-term memory to the test? Have a go at our game and match the parts in record time!
Don't forget to shop at least € 250 of selected products this month if you want to receive amazing gifts:
If you shopped and also have one of the fastest game times, you get the real-life version of the game*
Shopped, and finished the game in real record time? Then one of many TVH-branded JBL speakers is also coming your way*
Not a customer yet? Set up your TVH account here. In the meantime, you can already practice the game
SHOP THESE QUALITY PARTS to get your gift
ALSO YOUR PERFECT MATCH FOR OTHER PARTS & SERVICES
Check out all blogs, expert interviews, videos, infographics and more in our Learning hub.
Global support team
With 62 different nationalities and 55 spoken languages in the company, we can offer customer support in your own language.
Over 50 years of experience
We've grown from 2 founders to a company of more than 5000 employees, with offices and distribution facilities on every continent.
46 000 000 known references
The most extensive range of parts for material handling, industrial, construction and agricultural equipment. We continuously grow our offer, with more parts and accessories arriving every day.
95% ship the same day
We collaborate with local shipping companies to deliver every order within the promised timeframe. To ensure a fast delivery, we ship 95% of orders on the same day of ordering.
The perfect match? Check!
Meet some customers who TVH has helped to find the perfect parts for the construction equipment they deal with.
We turn to TVH again and again: we know we can count on your extensive parts offering and how quickly orders are processed.
Customer
Italy
We value TVH's quality, fast delivery and assistance in finding unknown part numbers.
Customer
Indonesia
In order to shop & play, you need access to our online shop. Register in 3 steps:
Request your customer account to shop parts online
STEP 1
Tell us about your company
Submit the application form to specify your business needs and request your customer account.
STEP 2
Your account creation
Our sales team will contact you within 3 business days to talk about your business needs and complete registration.
STEP 3
Access our online shop
After your account is set up, you will receive a personal login to our online shop. We will guide you in finding parts and placing your first order.
Request your account
Over 75.000 customers trust TVH as their spare parts supplier to ensure their client's equipment fleet is running smoothly and efficiently. It starts with a customer account.