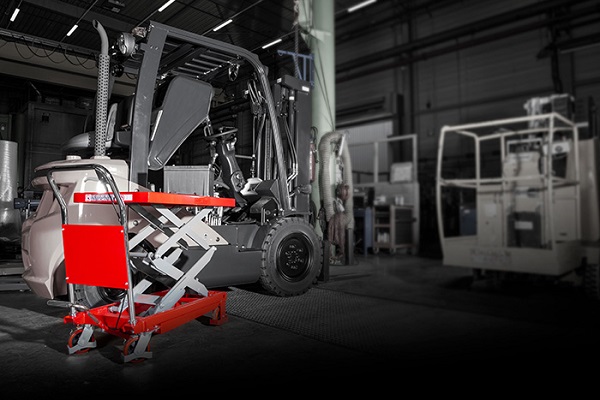 Lifting goods doesn't have to be a difficult task, wouldn't you agree? Handle loads with ease with a practical lift table. In addition to manual lift tables, we also offer you semi-electric and fully electric versions, specially designed to deal with a variety of handling applications. Lift tables can be used for many jobs: as a workbench for mechanics in the workshop, as a means of transport for heavy power tools, as a supply trolley while replenishing shelves ... Furthermore, we offer:
Many stock items to ensure fast delivery.
Customer support in 57 languages.
A dedicated technical support team that will provide you the best possible service imaginable.
Create a free account for our online shop. You will get access to a vast range of lift tables. Already have an account? Log in now!
Discover our range of lift tables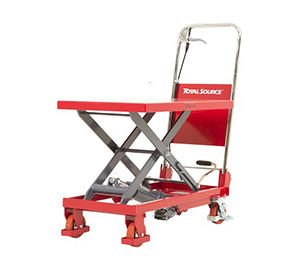 Manual lift tables in steel
Lift tables effortlessly raise and lower heavy items. They are often used as a workbench in workshops or as a transport tool for heavy engine parts or other machinery. By choosing a model equipped with a foldable handle, you can store the lift table under racks, this will save you extra storage space. To select the correct lift table, the load capacity and maximum height are very important to work in a safe way and at an ergonomic height.
Features
With foot brake for a quick stop response
No back problems because you always work at an ergonomic height
Only one tool needed to transport and lift your goods, this means no extra costs for other equipment
With foot pedal for easy lifting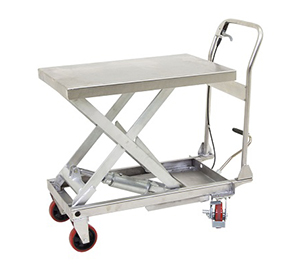 Manual lift tables in semi-stainless steel
Do you work in a humid environment or in the food industry? Our high-quality stainless steel lift tables are the perfect fit for you to work in extremely low or high temperatures or wet conditions. Minimise the effort you need to lift and lower heavy loads and opt for an ergonomic way of working. The full range consists of a variety of platform sizes and lifting heights. On the next page, you'll find the best option for your application.
Features
Great resistance against low and high temperatures (-38 °C up to 40 °C) making these models suitable for the food and chemical industry
Corrosion-resistant so ideal to use in wet conditions
With foot brake for a quick stop response
No back problems because you always work at an ergonomic height
Only one tool needed to transport and lift your goods, this means no extra costs for other equipment
With foot pedal for easy lifting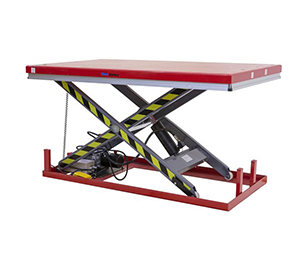 Electric lift tables in steel
In addition to our manual lift tables, you can opt for an electric model for loads starting from 500 kg. In this case, electrically driven means increased efficiency with fewer efforts. Because the motor is located externally on some models, the starting height of these models is very low. With a loading ramp, you can easily place your load on the lift table using a trolley or pallet truck.
Features
Equipped with emergency switch to create a safe workspace
Immediately ready for use
Easy-to-use remote control system makes the system easy to operate for any user
Crush-resistant frame thanks to the strong steel construction of the lift table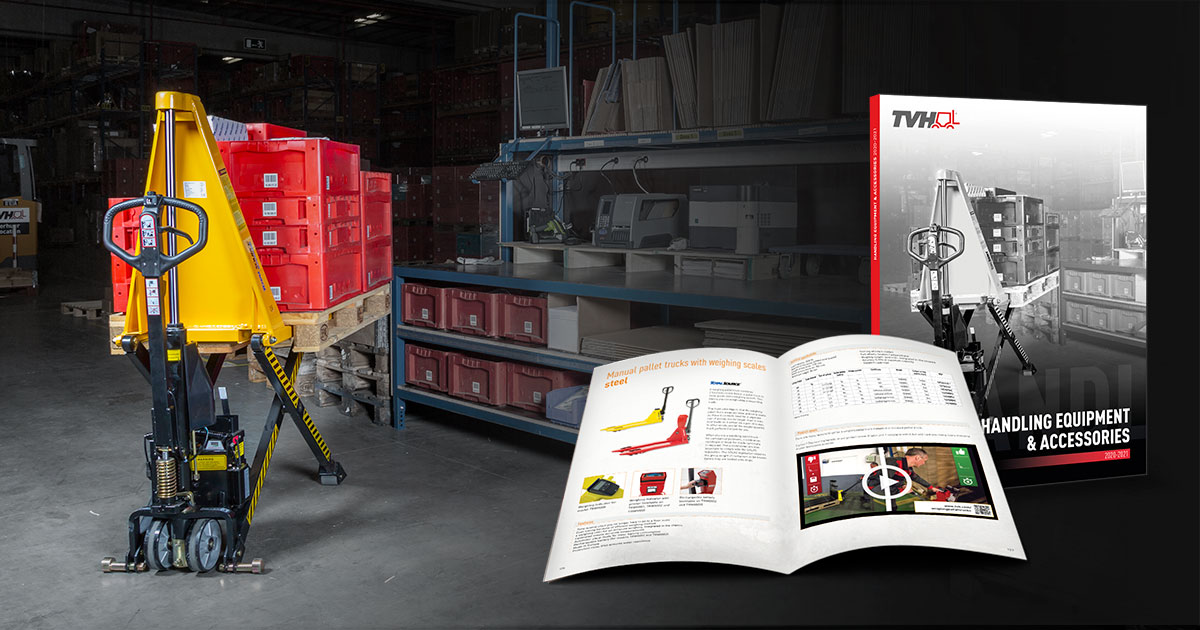 Have a look at our catalogue
Discover our full product range of material handling equipment in our catalogue. It's divided into different chapters, based on the type of product you need. Almost each chapter contains a guide to help you choose the right product based on technical specifications, conditions of use or easy questions and answers.
Have a look in our material handling equipment catalogue.
Why you should choose us as your floor sweeper supplier
With our comprehensive range of lift tables at competitive prices, next day delivery from our network of regional warehouses and a dedicated technical support team, we can offer you the best possible service imaginable.

Global support team
With 62 different nationalities and 57 spoken languages in the company, we can offer customer support in your own language.

Over 50 years of experience
We've grown from 2 founders to a company of more than 5000 employees, with offices and distribution facilities on every continent.

47 000 000 known references
The most extensive range of parts for material handling, industrial, construction and agricultural equipment. We continuously grow our offer, with more parts and accessories arriving every day.

95% ship the same day
We collaborate with local shipping companies to deliver every order within the promised timeframe. To ensure a fast delivery, we ship 95% of orders on the same day of ordering.
Buy your lift tables in three easy steps
Go to our online shop to unlock our full range of lift tables. Once you have the access, you will be able to:
Order your lift tables directly from TVH through your own software. 
Save research time and reduce search errors by registering your lift tables in our tool. You can personalise your equipment by adding your own reference, images, documents and notes.
Immediately see the price, lead time, availability, pictures and technical features for every reference.
Already have an account? Log in here.
New to TVH? Follow the three steps below to gain full access to our online shop with lift tables.
Request your customer account to shop parts online
STEP 1
Tell us about your company
Submit the application form to specify your business needs and request your customer account.
STEP 2
Your account creation
Our sales team will contact you within 3 business days to talk about your business needs and complete registration.
STEP 3
Access our online shop
After your account is set up, you will receive a personal login to our online shop. We will guide you in finding parts and placing your first order.
Request your login details now
Get access to all our full range of lift tables in our online shop.