Looking for a cabin or cabin parts for your sideloader, mini-excavator or another industrial vehicle? Look no further. TVH is the one-stop shop for every forklift cabin part. Thanks to our extensive range, we offer the right fit for every machine. Not only do we provide cabins, but our range also includes joysticks, key switches, seats and much more. All these products represent a good price/quality ratio and can be delivered very quickly. At TVH, we have got your cabin covered.
Discover our range of cabins and cabin parts suitable for every machine
Cabin parts are an important part of your industrial vehicle. Whether you need a seat, window or any other cabin part, we have got you covered. Our wide range contains all the parts you need. Thanks to our large stock we can meet your demands at any time and any place.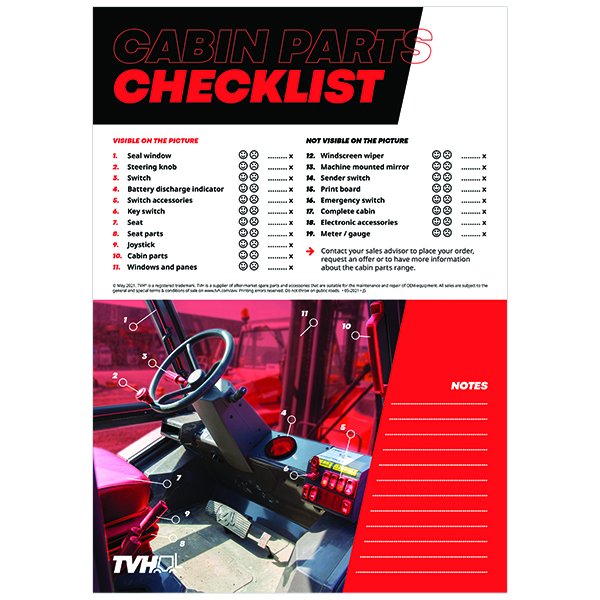 Tick all the boxes with our cabin parts checklist
Steering knob? Check! Seat? Check! Mirror? Check! Our handy cabin parts checklist makes cabin maintenance more efficient than ever. Be sure you've got all the right parts and keep track of anything that needs repairs.
Use this checklist as a guide to select the parts you need.
Buy your forklift cabin parts via online shop
At TVH, we give you access to a wide range of forklift cabin parts in our online shop. You're able to place orders, look up spare parts and accessories for your forklift, and make enquiries 24 hours a day, 7 days a week. You'll never have to search for 'forklift cabin parts near me' ever again. Thanks to the search functions MyPartsFinder and MyProductSearch, it's easy to find the correct references or names of the parts you need, using the technical specifications of the part or via the equipment make and type. For every reference, you immediately see the price, lead time, availability, pictures and technical features. Place your order or make an enquiry in just a few clicks. Need a direct replacement? Use our mobile application to scan your existing part and you'll be checking out in no time.
New to TVH? No problem! Follow the three steps below to gain full access to our comprehensive range of forklift cabin parts.
Request your customer account to shop parts online
STEP 1
Tell us about your company
Submit the application form to specify your business needs and request your customer account.
STEP 2
Your account creation
Our sales team will contact you within 3 business days to talk about your business needs and complete registration.
STEP 3
Access our online shop
After your account is set up, you will receive a personal login to our online shop. We will guide you in finding parts and placing your first order.
Request your account
Over 75.000 customers trust TVH as their spare parts supplier to ensure their client's equipment fleet is running smoothly and efficiently. It starts with a customer account.