ENGINE TURBO MAINTENANCE TIPS: 3 tips to boost your engine performance
29 December 2022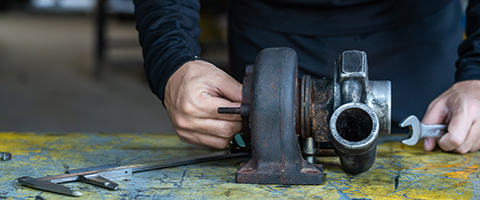 Oil changes
Irregular oil changes, incorrect oil, low oil levels or overdue oil filter changes. These are all elements that can cause a failure of the turbocharger. Why? Because turbochargers are notably susceptible to fluctuations in lubrication and oil quality. The booster is built up out of small rotating parts: all of them precisely balanced and floating on a thin layer of engine oil. Even minute impurities in the oil, coming from other parts of the engine, can cause the turbo to break down.
Air leaks
Air leaks - whether it's in the plumbing, intercooler, intake manifold or other - result in poor engine performance. And low turbo boost. Whenever you hear whistling noises from under the hood, be cautious. These can be caused by leaks between the compressor and intake manifold, as a result of which the turbocharger has to perform much harder. Additionally, straining a turbo beyond its normal potential can cause severe damage to the compressor wheel or other components. Our diagnostic solutions and wide range of fittings, manifolds and hoses are definitely the right steps towards correct leak detection and a suiting solution.
Complete turbocharger replacement
Installing or removing a turbocharger can cost you tons of money. Also, it's not easy at all. That's why it's sometimes better to rely on engine experts to find out what is wrong. Replacing the blades or inspecting the air filter will bring you much closer to a machine that's up and running again. Luckily for you, we offer a vast range of engine parts, including everything you need to keep that turbo going.
Ready to become a customer? Follow the 3 steps below and become a customer today:
STEP 1
APPLY FOR AN E-COMMERCE ACCOUNT
Fill in the application form to get exclusive access to our webshop.
STEP 2
ACCOUNT CREATION
Customer Service will handle your registration and send your login credentials.
STEP 3
ACCESS OUR ONLINE SHOP
Log in to our online shop. Discover our range of engine parts.