Electric Motors and Parts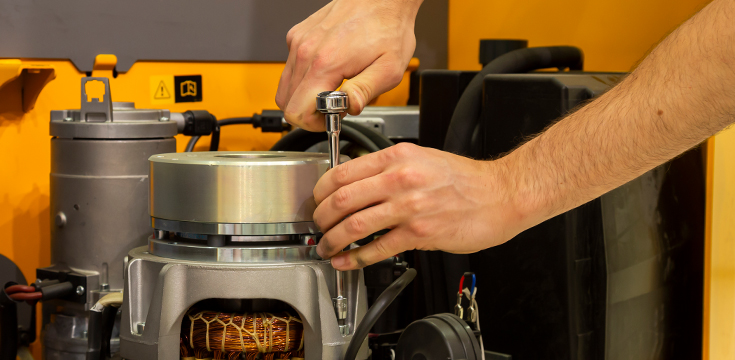 An electric motor converts electrical energy into mechanical energy that drives the outgoing shaft. Depending on the function of the motor, this shaft can drive pumps, gears, gearboxes, steering racks …
There are many types of motors in industrial machines, but the most important ones are pump motors, which drive the hydraulic pump (mainly used for lifting and power steering) and traction motors, which are fitted onto a drive axle/gearbox (used to drive the truck).
Nowadays, most new applications will be fitted with AC instead of DC motors. AC motors are proven to be more reliable and require far less maintenance than DC motors.
RANGE
Our range consists of electric motors for different types of machines: forklifts, skid steer loaders, mobile elevating work platforms, tail lifts, industrial floor scrubbers, floor sweepers, mini-excavators …
We offer new and reconditioned electric motors with an excellent price-quality ratio. Fortunately, it's not always necessary to buy a new unit.
Did you know that we also offer a repair service? Read more about it below.
ELECTRIC MOTOR BRANDS
Thoroughbred is a brand of TVH and is known as a reliable brand in the world of electric motors. The brand represents high-quality DC and AC motors, used in material handling, tail lifts, mobile elevating work platforms … TVH distributes electric motors of many well-known brands, such as:
Ametek, Bosch, Advanced Motors & Drives, General Electric, Iskra, Prestolite
PARTS FOR ELECTRIC MOTORS
During the lifespan of the motor, some parts may need replacing. TVH offers a diverse range of wear parts, such as − but not limited to − carbon brushes, brush springs, brush holders, bearings, armatures/rotors, field coils, stators, end heads, protection cover bands, speed and thermal sensors, retainers, oil seals, fans and terminal boards.
RECONDITIONED ELECTRIC MOTORS
Right from the start of TVH in 1969, reconditioned parts have been a vital focus of our range and our services. We repair parts that, after extensive testing, are placed in stock. This is done according to strict quality standards.
How does this whole reconditioning procedure work?
First, we measure the values and visually inspect the electric motor. Next, we disassemble it to thoroughly inspect all individual components. Then, we clean and revise all the parts to make sure they function as new again. Finally, we assemble the motor. We rework the commutator according to specific tolerances. If needed, we varnish and dry the parts in order to achieve the required insulation values. Rotor rewinding is also within our possibilities. By default, we replace all bearings, encoders, seals and brushes. After assembly of the motor, we use the MTC2 and MotorAnalyzer 1 for full quality testing.
The MTC2 is a high-end surge voltage tester that analyizes coils, stators, armatures and all other kinds of windings according to the latest technology.
The MotorAnalyzer 1 is an all-purpose tester for electric motors and windings. To check three-phase motors, the three winding connections as well as the motor housing are connected to the tester. It analyses the motor automatically, using a surge and resistance test. Last but not least, a high-voltage test is also performed on the motor in order to evaluate the motor's quality.
Quality & warranty
The results of this extensive testing process are written down in a test report. On top of that, we offer our reconditioned parts with the same warranty conditions as our new parts. This is our guarantee that your reconditioned motor meets all quality requirements.
Let's go green together! Do you have an old or faulty electric motor? We are interested to buy and recycle them!
WHY CHOOSE A RECONDITIONED ELECTRIC MOTOR?
Save money
Enjoy the same quality and warranty that new parts have
Contribute to a green future
2 WAYS TO ORDER
1. With return of old electric motor
You can buy a reconditioned motor at a reduced price, in return for your old motor. A surcharge amount will appear on your invoice. When you return your old motor, subject to normal wear, this surcharge will be credited.
2. Without return of old electric motor
These are reconditioned electric motors that don't require the return of an old unit. As a result, no surcharge is mentioned on the offer.
OUR REPAIR SERVICE
You can send us your malfunctioning electric motors to be repaired by our specialized engineers. First we send you an estimate of the repair costs. Upon your approval, the repair team gets to work. After your electric motor has been repaired, it is subjected to various tests to ensure the problems have been resolved. Afterwards, the electric motor is sent back to you with a test report substantiating its performances.
WHERE CAN YOU FIND YOUR ELECTRIC MOTOR?
Our online shop for spare parts and accessories, where you can request quotes and place orders online, 24/7. For every reference you can immediately see the price, lead time, stock, pictures and technical features.
How does it work?
There are three ways to find what you need. What's best for you? That depends on the information you have. Log onto the online platform, choose what suits you best and receive the right price and availability straightaway.
Order your parts via MyTotalSource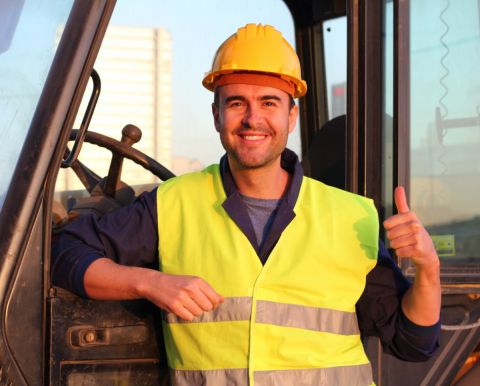 Not a customer yet?
To ensure we can set up your TVH account as soon as possible, please complete the registration form.
Electric motors
Got a question?
We are happy to help you with all your questions. Please visit our contact page for more information on how to contact us.