Grammer seats and accessories: a wide range to choose from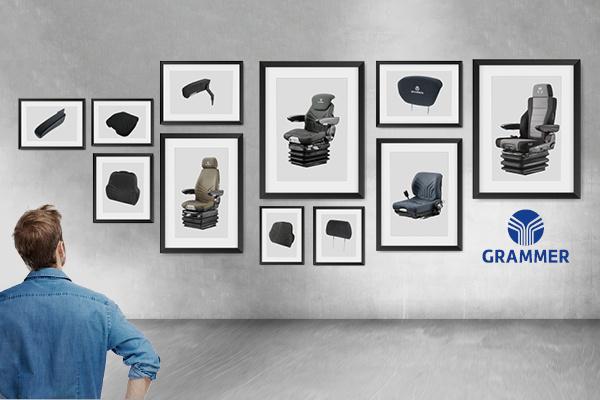 TVH's partner GRAMMER offers a wide variety of qualitative seats and seat accessories such as headrests, armrests and seat cushions. GRAMMER stands for mobile comfort, safety and unrivalled ergonomics. What drives them, is a passion for creating products with the highest level of operator comfort and a quality seating solution for people who use vehicles as one of their primary work tools. 
GRAMMER is constantly seeking new pioneering solutions to additionally improve their products. They are a market leader in:
air suspension
fully automatic adjustment to the driver's weight guaranteeing a perfect ride
active seat climatisation which carries away body perspiration
a host of other seating solution patents
At TVH you can explore 46 million parts for diverse equipment types, with daily additions to our growing inventory.
Modified by TVH to fit your needs
Looking for the perfect seat & its accessories?
As the worldwide preferred manufacturer of off-road seats, trust GRAMMER for high-quality seating solutions for agriculture, construction and material handling equipment.
At TVH, we understand that everybody is different. Make sure your preferences are met by customising your seat with targeted features. You choose your base GRAMMER seat to begin with and then you start adding options … Would you like fabric or PVC? Perhaps you'd feel more comfortable with an armrest or headrest? What about heating? Let us guide you through the many customisation possibilities for GRAMMER seats. TVH has the specialist knowledge to modify your seat to your needs.

Strong in ergonomics
The GRAMMER brand is synonymous with unrivalled ergonomics. The company is passionate about creating seats with the highest level of operator comfort - the operator shouldn't fit the seat; the seat should fit the needs of the operator.
For years, GRAMMER has worked closely with scientists and even a doctor researching the human spine - and you can feel that knowledge in every seat design. Thanks to the extensive research, development and testing, GRAMMER created durable seats that help you to reduce whole body vibrations and offer premium driver experience for every operator.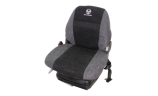 BUY YOUR GRAMMER PRODUCTS NOW AND RECEIVE A COMPLIMENTARY SEAT COVER*
TVH AS YOUR GRAMMER DISTRIBUTOR
With our comprehensive range of GRAMMER parts at competitive prices, next day delivery from our network of regional warehouses and a dedicated technical support team, we can offer you the best possible service imaginable. Whether you need GRAMMER parts for a routine inspection or major repairs or replacements, look to TVH.
Global support team
With 62 different nationalities and 57 spoken languages in the company, we can offer customer support in your own language.
Over 50 years of experience
We've grown from 2 founders to a company of more than 5000 employees, with offices and distribution facilities on every continent.
47 000 000 known references
The most extensive range of parts for material handling, industrial, construction and agricultural equipment. We continuously grow our offer, with more parts and accessories arriving every day.
95% ship the same day
We collaborate with local shipping companies to deliver every order within the promised timeframe. To ensure a fast delivery, we ship 95% of orders on the same day of ordering.