About RAVAS
RAVAS is the dedicated specialist and manufacturer of mobile weighing technology for hand pallet trucks, electric warehouse trucks and forklift trucks. Their innovative team creates intelligent solutions and services for customers' supply chain worldwide. RAVAS turns data into currency by creating intelligent data on weight and volume of material flows that can be used to optimize any supply chain in industry and logistics. The RAVAS mobile weighing systems, such as carriage plate scales, intelligent forks and hydraulic scales are suitable for all OEM makes and models. 
The RAVAS product range at TVH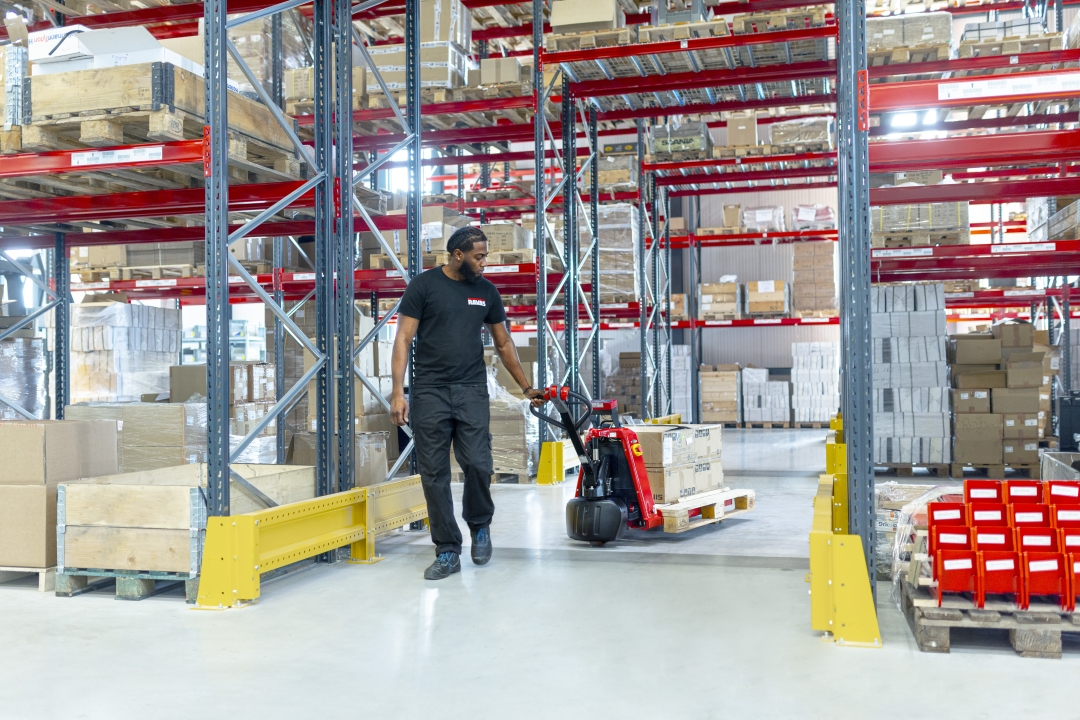 Weighing pallet trucks
The RAVAS series consists of a complete series of mobile weighing systems for pallet trucks that can be used in almost any warehouse. The RAVAS-1100 is a solid hand pallet truck that has all the basic functions for weighing. The advanced RAVAS-3200 has more extensive options in terms of data communication. A calibrated version is also available. This guarantees OIML validation and allows you to charge your customers based on weight.
Furthermore, RAVAS offers more specific weighing hand pallet trucks, such as the Ergo Truck who combines RAVAS' innovative and efficient weighing scales with a lithium-ion battery and Bluetooth technology to provide operators with the most efficient electric weighing pallet truck on the market. Thanks to the electric drive and lift it's the ideal choice for any warehouse and for replacing your hand pallet truck or floor scale. This truck is equipped with an electric drive and lifting function. Finally, there is the Ergo Scissor Lift that allows you to work and weigh accurately at an ergonomic height and use the truck as a workbench.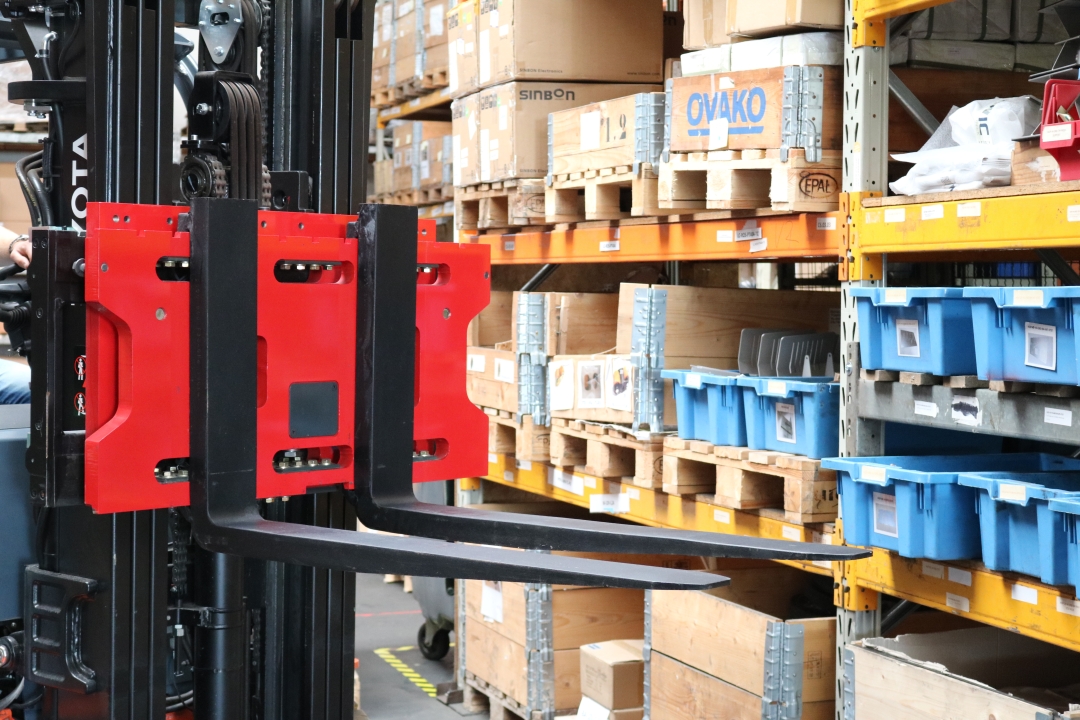 iCP: weighing carriage
The iCP intelligent carriage plate allows mobile weighing in combination with forklift attachments such as clamps and rotators. This solution makes it possible to weigh specific products such as bales of clothing, paper or paper rolls. More good news: your current or new forklift probably doesn't even need to be modified to fit this smart weighing system. The iCP is suitable for use in combination with the RAVAS WeightsApp and optionally available as Legal for Trade version.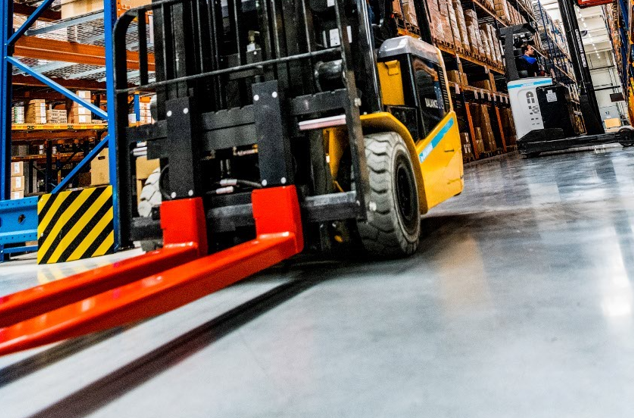 iForks: weighing forks
RAVAS offers a wide range of iForks. These weighing forks are designed and built for multiple logistics and production applications such as cross docking, weighing inbound and outbound goods and safely loading and unloading of containers. 
iForks-32 are highly accurate weighing forks, excellent for both logistics and industry. Perfectly suitable for when you want to weigh your products efficiently and provide real-time data to your warehouse management system, without impacting your processes. These weighing forks are powered by compact Lithium-ion batteries (plug and play!) and are supplied with Bluetooth 4.0 data transfer as a standard. 
iForks-52 with intuitive touchscreen have even more to offer. For example, operators can weigh even more precisely and the touchscreen display offers more options. There are also plenty of variations in this series. Think, for example, of a calibrated version, deviating fork lengths, piece counting and extensive data communication.
 
Why choose RAVAS?
With a mobile weighing system on a forklift, warehouse truck, stacker truck or hand pallet truck, you can weigh in the flow of your internal logistics. You immediately know the weight of the lifted goods. Therefore, it is no longer necessary to drive back and forth with each pallet or container to a fixed floor scale. Mobile weighing systems save you time, money and space. In addition to the savings from mobile weighing, you can optimize your logistics processes and increase the efficiency by transmitting weighing data directly to your business systems. For any application in logistics or industry, RAVAS offers a solution.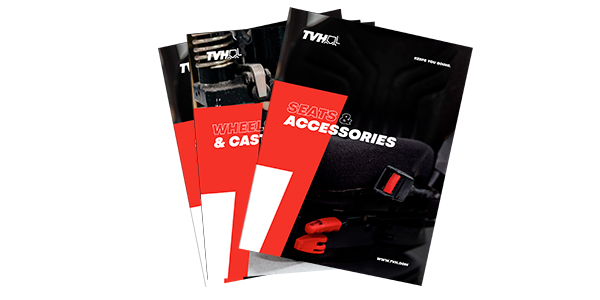 Learn more about RAVAS in our catalogue
Consult our overview page of useful catalogues. You will find useful information and technical sheets with all the necessary details.
They are available in various formats. Click on the link below and download the digital version.
Why you should choose us as your RAVAS distributor
With our comprehensive range of RAVAS products at competitive prices, our network of regional warehouses and a dedicated technical support team, we can offer you the best possible service imaginable. You can even contact us for parts that you don't see in our online catalogues.
 
Global support team: With 62 different nationalities and 55 spoken languages in the company, we can offer customer support in your own language.
Over 50 years of experience: We've grown from 2 founders to a company of more than 5000 employees, with offices and distribution facilities on every continent.
46 000 000 known references: The most extensive range of parts for material handling, industrial, construction and agricultural equipment. We continuously grow our offer, with more parts and accessories arriving every day.
Buy your RAVAS products in three easy steps
Go to our online shop to unlock our full RAVAS product range. Once you have the access, you will be able to:
Order your full electric pallet truck and other RAVAS products directly from TVH through your own software. 
Immediately see the price, lead time, availability, pictures and technical features for every RAVAS reference.
Already have an account? Log in here.

New to TVH? Follow the three steps below to gain full access to our online shop with RAVAS.
Request your customer account to shop parts online
STEP 1
Tell us about your company
Submit the application form to specify your business needs and request your customer account.
STEP 2
Your account creation
Our sales team will contact you within 3 business days to talk about your business needs and complete registration.
STEP 3
Access our online shop
After your account is set up, you will receive a personal login to our online shop. We will guide you in finding parts and placing your first order.
Get access to our full range of RAVAS products in our online shop
Request your login details now.