Forklift parts & accessories that fit any make or model
Forklifts are designed to last, but like any other machinery, forklift parts are susceptible to wear and tear. High-quality forklift parts and accessories are essential to keep your lift trucks running and your employees safe.
Looking for a reliable partner? TVH can supply quality forklift parts for any make or model.
Over 50 years of technical expertise in material handling equipment.
47 000 000 known references for all major makes and models
95% of orders are shipped the same day and delivered within 24 hours in Europe and 48 hours worldwide.
Request a customer account for our online shop. You will get access to a vast range of forklift parts and accessories suitable for all makes. Already have an account? Log in now!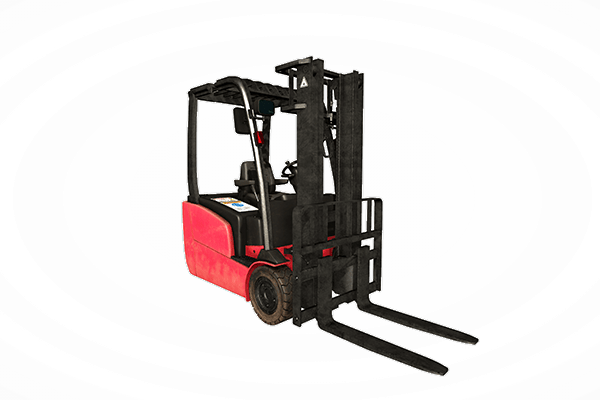 Forklifts, whether they are powered by a battery or an internal combustion engine, are essential in any business whose operations involve heavy lifting and material handling. They are used to safely lift and move loads of great weight for extended periods of time. Forklifts are designed to last, but like any other machinery, forklift parts are susceptible to wear and tear. To keep your lift trucks running and your employees safe, high-quality forklift parts and accessories are essential. TVH is your forklift parts supplier for all your maintenance and repair needs.
Makes and models
Keeping your forklifts running long-term requires a few things: careful operation, proper maintenance and access to high-quality parts and accessories. With a database of 44 000 000 known references and 930 000 parts in stock, TVH is the biggest supplier of forklift parts and accessories worldwide. We provide quality replacement parts for all brands and makes, including hard-to-find ones. Our forklift parts are suitable for:
Atlet, Ausa, Balkancar, Baoli, BT, Caterpillar, Cesab, Clark, Coventry Climax, Crown, Daewoo, DanTruck, Doosan, Fenwick, Fiat, Halla, Hangcha, Heli, Hyster, Hyundai, JCB, Jungheinrich, Kalmar, Komatsu, Lansing, Linde, LOC, Manitou, Mitsubishi, Montini, Nichiyu, Nissan, Nuova Detas, OMG, Rocla, Shinko, Sisu, Steinbock, Still, Stocklin, Tailift, TCM, Toyota, Unicarriers, Utilev, Yale.
Our extensive stock guarantees a short delivery time for every part or accessory you need. Can't find what you are looking for? Contact us today for more info.
Forklift parts
Delivering quality forklift parts has always been an integral part of the TVH philosophy. Not only new parts are subjected to fierce quality testing, but also our extensive range of rebuilt parts is put to the test before they are sent to our customers worldwide. TVH offers over 50 years of experience in parts for forklifts: every part, from the smallest screw, up to forklift seats and forks, is available. Our product range is unique in the market and our short delivery times will surely surprise you.
Forklift accessories
At TVH, we also offer a wide range of forklift accessories, making it easy for you to keep your forklift operational at all times. Our range of forklift accessories includes lights, mirrors, camera systems and fork extensions – to name just a few.
Column and rack protection
Backup alarms
FORKLIFT ATTACHMENTS
With our very own brand CAM attachments, you will find many attachments for your forklifts, such as paper roll clamps, sideshifts, rotators, and forks. All of these attachments are ideal for forklifts, thanks to their great quality and excellent durability. Go to www.camattachments.com and discover the full range of forklift attachments.
Looking for a way to manage your fleet of forklifts?
GEM One is a telematics fleet management solution that gives you the data and insights you need to operate your fleet safely and efficiently. You make your fleet more productive, and make more money. 
Learn more about telematics fleet management for forklifts.
Did you know we also offer remanufactured parts for forklifts?
It's the perfect alternative to buying new. You get a top-quality part at a lower price, backed up with the same warranty as a brand-new part. How does it work? We repair parts according to strict quality standards, that are placed in stock afterwards. 
Discover our full range of remanufactured parts for forklifts.
Why choose TVH?
From the simplest pallet truck to the heaviest forklift, from the smallest nut to the complete chassis: you will find it all at TVH. We are your global one-stop shop for parts and accessories for material handling, industrial and agricultural equipment.
Our technically skilled employees are trained to understand the unique requirements of each brand and machine and provide professional service for all your technical questions.
We offer customer support in 57 languages to restrict language barriers to an absolute minimum.
We offer same-day shipment, next-day delivery to all our customers.
Easily search for parts online 24 hours a day, 7 days a week, to find what you need, when you need it. Our online shop gives you real-time pricing and availability and ensures your part is in stock when you order for the fastest possible delivery.

Global support team
With 62 different nationalities and 57 spoken languages in the company, we can offer customer support in your own language.

Over 50 years of experience
We've grown from 2 founders to a company of more than 5000 employees, with offices and distribution facilities on every continent.

47 000 000 known references
The most extensive range of parts for material handling, industrial, construction and agricultural equipment. We continuously grow our offer, with more parts and accessories arriving every day.

95% ship the same day
We collaborate with local shipping companies to deliver every order within the promised timeframe. To ensure a fast delivery, we ship 95% of orders on the same day of ordering.
Request your customer account to shop parts online
STEP 1
Tell us about your company
Submit the application form to specify your business needs and request your customer account.
STEP 2
Your account creation
Our sales team will contact you within 3 business days to talk about your business needs and complete registration.
STEP 3
Access our online shop
After your account is set up, you will receive a personal login to our online shop. We will guide you in finding parts and placing your first order.
Request your account
Over 75.000 customers trust TVH as their spare parts supplier to ensure their client's equipment fleet is running smoothly and efficiently. It starts with a customer account.